What Leia And Poe's Relationship Is Like In Star Wars: The Last Jedi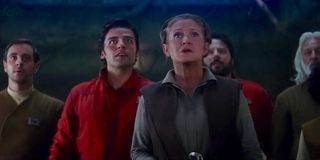 Leia Organa and Poe Dameron didn't share a lot of screen time in Star Wars: The Force Awakens, but Star Wars: The Last Jedi will rectify that, as Oscar Isaac has said on several occasions that he acted in many scenes with the late Carrie Fisher. Although The Force Awakens and the Poe Dameron comic book series from Marvel make it clear that Leia respects Poe as one of The Resistance's top pilots, The Last Jedi will show that the two of them sharing a deeper, more familial relationship. According to Isaac:
Although the cast of these new Star Wars movies feature a blend of people from the Original Trilogy and fresh faces, The Last Jedi is meant to be a passing of the torch to the newcomers. Luke Skywalker will be instructing Rey in the ways of The Force on Ahch-To, and as Oscar Isaac informed EW, General Leia Organa is preparing Poe Dameron to expand his duties in The Resistance beyond shooting down TIE Fighters in his X-Wing. She sees he has the potential to become a great leader for the entire military force. Isaac continued:
Compared to Rey and Finn, not a lot has been revealed about what Poe Dameron will be dealing with in The Last Jedi. Normally expect to see him back in an X-Wing cockpit, but during the trailer released in April, his X-Wing was blown up during an assault at a Resistance base, calling into question just how much Poe will be flying in the upcoming Star Wars installment. However, he's fortunate to have Leia Organa looking after him as a maternal figure. With her guidance, perhaps we'll see him calling some bigger shots when Episode IX rolls around.
Having Poe Dameron as a close confidant has also undoubtedly been good for Leia Organa. In the immediate years preceding The Force Awakens, her son, Ben, was seduced by the dark side and became Snoke's apprentice, she separated from Han Solo and her brother, Luke Skywalker, went into exile. All that coupled with her responsibilities as The Resistance's leader, and it's hard to imagine how anyone could handle all that and not lean on someone for support. Sadly, due to Carrie Fisher's passing last December, we won't get to see Leia and Poe's relationship explored further in Episode IX, so hopefully The Last Jedi does a good job with presenting their unique dynamic.
Star Wars: The Last Jedi hits theaters on December 15.
Connoisseur of Marvel, DC, Star Wars, John Wick, MonsterVerse and Doctor Who lore. He's aware he looks like Harry Potter and Clark Kent.
Your Daily Blend of Entertainment News
Thank you for signing up to CinemaBlend. You will receive a verification email shortly.
There was a problem. Please refresh the page and try again.