Man Pleads Guilty To Bringing Gun And Knives To The Purge Screening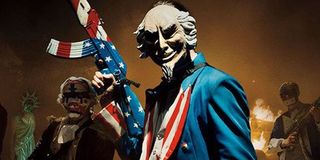 Thankfully, no one was injured in an incident that occurred last summer at a Cinemark theater in Monaca, Pennsylvania. The details of what happened, however, are nevertheless terrifying.
On July 23, 2016, then 21-year-old Georgia man William Dakotah Gossett purchased a ticket to The Purge: Election Year. The film was then just beginning its fourth week in theaters. Gossett, clad in heavy military fatigues despite a sweltering heat, also carried a sizable backpack as he wandered the Township Marketplace shopping area oustside the theater. Approached by authorities, Gossett attempted to escape into the theater restroom, but was arrested and was found to be carrying a semi-automatic handgun, a box of ammunition and multiple knives in addition to a variety of survival gear. The young man has now pleaded guilty to the crime.
Having made his plea, William Gossett is scheduled for sentencing on December 14. Because of parole violations related to his previous arrest, he faces fines as high as $250,000 and up to ten years in prison.
Previously arrested in 2015 for identity theft, According to TribLive, William Gossett reportedly suffers from Asperger Syndrome. During the movie theater arrest, he is also said to have lied to authorities about his name, identifying himself as William Glanton. What's more, Gossett tried to claim that he simply found the box of ammunition and that the gun was a gift from his uncle. Not entirely a surprise, authorities soon learned that the weapon had been stolen.
The parallels between whatever William Gossett was planning and the world of The Purge franchise -- wherein all crime is legal for a 12 hour period once a year -- are, indeed, disturbing and the specter of the 2012 movie theater mass shooting in Aurora, Colorado looms large.
Almost exactly four years before the incident involving William Gossett, 24-year-old James Holmes opened fire on audience attending a screening of The Dark Knight Rises. Holmes was charged with 24 counts of first degree murder (both with intent and with extreme difference for each of his 12 victims) as well as well as 140 counts of attempted first degree murder. He was ultimately sentenced to 12 consecutive life sentences.
Shortly after the 2012 incident, The Dark Knight Rises director Christopher Nolan released a statement about the tragedy that spoke directly to the idea of movie theaters as a shared, sacred space.
Sadly, acts of mass violence in the world today are not limited to any one location or even a consistent rationale in the minds of the killers. As scary as the notion may be that violence can strike anywhere at any time, it's important to remember that movies exist for precisely the opposite reason: to entertain, to educate and to escape. For many of us, the movie theater is our second home and nothing, no matter how upsetting it may be, will ever take that away from us.
Your Daily Blend of Entertainment News
Thank you for signing up to CinemaBlend. You will receive a verification email shortly.
There was a problem. Please refresh the page and try again.