7 Great Movies That All Came Out In The Summer Of 2007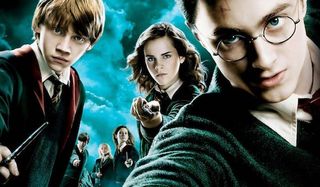 Summertime is a great period for major motion picture releases, but not every one of these movies can be hits. Even fewer are the ones that are still watched in the years after, but those that find themselves in that category are most fortunate, and some of those are deemed classic. 2017's summer movie period is almost finished, and it will be interesting to see how many of the releases from recent months will remain popular 10 years from now. But what about the offerings from this time a decade ago? How many of those movies are still hold up to this day?
With the 2017 summer movie season winding down, we've decided to look back ten years and collect some of the most well-received movies that came out in the summer of 2007. Let's start by looking back at when The Boy Who Lived was still one of the reigning box office champs.
Harry Potter and the Order of the Phoenix
Four years after J.K. Rowling published Harry Potter and the Order of the Phoenix, Warner Bros released the film adaptation to kick off the second half of the big screen series. Like Goblet of Fire, Order of the Phoenix was rated PG-13, and it was arguably the darkest Harry Potter entry at that point due to Voldemort's rise to power (again), Professor Dolores Umbridge's cruelty and more. Much like how the main Hogwarts students were further transitioning from adolescence to adulthood, this movie built off what The Goblet of Fire set up and brought the Harry Potter series to new territory that, while tragic at times, helped reinvigorate the Wizarding World. What's even more impressive is the fact that Order of the Phoenix was able to boil down so much of the original text and still come out as a compelling story, not to mention also being the second-shortest movie of the series.
Ratatouille
Pixar had already come with a lot of weird ideas before 2007, from sentient toys to a world where some monsters earned their living by scaring human children. But a rat who secretly starts cooking at an upscale French restaurant? That's especially bonkers! But with such a unique premise, as well as Brad Bird's direction and vocal talents like Patton Oswalt and Brad Garrett, Ratatouille remains one of Pixar's most charming offerings. It's packed with a lot of heart and is appealing to moviegoers of all ages, whether you love the shenanigans Remy gets up to in that kitchen or enjoy the deeper message of pursuing what you're passionate about and not letting anyone stop you from at least trying to accomplish your dream.
Knocked Up
Seth Rogen had already built a fanbase through credits like Freaks and Geeks and The 40-Year Old Virgin, but Knocked Up marked his first time leading a comedy movie. Paired with Katherine Heigl, the movie followed how a slacker and a big media personality handled their lives after the former impregnated the latter during a drunken one-night stand. Knocked Up was considered by many outlets to be one of the best comedies of 2007, and even though Rogen and director Judd Apatow have warded off controversy concerning to the movie in the years since, it still holds up as one of Rogen's best pieces of work, combining this usual brand of raunchy humor with a sprinkling of sentimental moments.
Hairspray
It's difficult for a remake to provide a fresh take to audiences while still staying faithful to its predecessor. That was the challenge presented to Hairspray, which was released nearly two decades after the John Waters original and five years after the Broadway musical pulled back its curtain. Fortunately, the Hairspray remake, which was directed by Adam Shankman and starred talent like John Travolta, Michelle Pfieffer and Christopher Walken, was inspired more by the musical than the 1988 movie, so for folks who weren't able to travel to New York to see the critically acclaimed stage production, this movie was the next best thing. Rocking an enthusiastic energy and tunes that would get most folks at least tapping their foot to the rhythm, Hairspray remains one of those movie that's worth playing if you need a good pick-me-up.
Superbad
Before 2007, you probably know Michael Cera as the kid from Arrested Development and Jonah Hill from his minor/supporting roles in The 40-Year Old Virgin and Grandma's Boy. Thanks to Superbad, these two actors were put front and center on the Hollywood map, though we would be remiss for not mentioning that this movie also doubled as Emma Stone's film debut. The premise was relatively basic: two teens are trying to get to a party so they can get laid before high school graduation, a task that looked simpler on paper than it did to execute once buying alcohol was factored in. Superbad was a welcome and frank take on the pressures of high school, but more importantly, it delivered a lot of laughs that still hold up, especially from McLovin's side story.
Stardust
There's no question that Stardust came and went with less fanfare than the other entries on this list, but that doesn't take away from its enjoyability. Based off the Neil Gaiman novel of the same name published in 1999, the Stardust movie featured a lot of incredible talent, including future Daredevil Charlie Cox, Claire Danes, Michelle Pfeiffer, Robert de Niro and Mark Strong. The adaptation took some creative liberties from the original text to make Tristan's journey through the kingdom of Stormhold more appetizing for moviegoers (especially younger ones), and it paid off. For those who appreciate more lighthearted fantasy tales or want something that kids can enjoy just as much as adults, Stardust is the movie to check out.
The Simpsons Movie
The Simpsons had already long been a pop culture institution when The Simpsons Movie came out, but this theatrical release proved that the Simpson family can be just as entertaining over nearly 90 minutes as they've been in the half-hour timeframe. The Simpsons Movie put Homer in arguably his worst situation yet when he was exiled and abandoned by his family after polluting Springfield's lake, forcing him to make things right when the town is threatened. It was a story that couldn't be effectively told in the traditional Simpsons sitcom format, and thankfully by leaning on the same humor and gags that make the show so popular, The Simpsons Movie is still worthy of re-watching every now and then, especially if you're blazing your way through The Simpsons episodes of the mid-2000s.
Your Daily Blend of Entertainment News
Connoisseur of Marvel, DC, Star Wars, John Wick, MonsterVerse and Doctor Who lore. He's aware he looks like Harry Potter and Clark Kent.