Another Avengers: Infinity War Actor Has Been Confirmed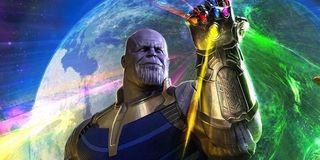 While next summer's Avengers: Infinity War is set to feature the return of dozens of familiar faces from throughout the Marvel Cinematic Universe, there will also be quite a few new characters making their big screen debuts in the Joe and Anthony Russo film. One of those new characters is set to be played by Tom Vaughan-Lawlor. While there's no official confirmation as to who he'll be portraying, clues strongly point to the Dublin actor taking on a performance capture role as one of Thanos' Black Order, perhaps the manipulative Ebony Maw.
While he doesn't specifically name Ebony Maw as his role, Tom Vaughan-Lawlor confirmed to Dublin Live that he does indeed play a part in the 2018 superhero ensemble. That's not entirely a surprise as, last month, the actor was photographed on set in a performance capture outfit, doing battle with Benedict Cumberbatch's Doctor Strange. Close examination of the photo revealed a nametag that reads "EB MAW," all but confirming Vaughan-Lawlor for the role.
Tom Vaughan-Lawlor himself is best known for starring alongside Aidan Gillen and Robert Sheehan on the Irish crime drama Love/Hate. He also recently starred alongside Bryan Cranston in Brad Furman's 2016 biopic The Infiltrator.
Ebony Maw, meanwhile, is a fairly recent addition to the Marvel comic book continuity, created by Jonathan Hickman and Jerome Opeña as a featured player in the 2013 crossover "Infinity". Marvel confirmed at the recent D23 Expo that Maw will appear in Avengers: Infinity War alongside the rest of the Black Order. The Black Order, which was also introduced during the "Infinity" arc, is comprised of five individuals that experts in their respective fields. While Maw himself doesn't display any super powers per se, he's a master of persuasion and even some of Marvel's most experienced heroes have come under his thrall.
It's of particular interest that Ebony Maw appears aimed to do conflict with Doctor Strange as that's exactly what happened in the recent comics. Maw was dispatched by Thanos to trick Strange into summoning the ancient extradimensional cyclopean demon Shuma-Gorath. Whether or not the Lovecraftian beastie itself makes an appearance in Avengers: Infinity War remains to be seen. Shuma-Gorath's Marvel origins trace back to 1975, but the creature originally hails from the Hyborian Age, namedropped a 1967 Robert E. Howard Kull story.
With Avengers: Infinity War less than eight months away, expect a lot of additional casting updates and other reveals soon. While next summer is rapidly approaching, we've still got Thor: Ragnarok in November and Black Panther in February 2018. Who even knows what sort of state the Marvel Cinematic Universe will be in by then?
Your Daily Blend of Entertainment News
Thank you for signing up to CinemaBlend. You will receive a verification email shortly.
There was a problem. Please refresh the page and try again.