The Marvel Villain Doctor Strange May Fight In Avengers: Infinity War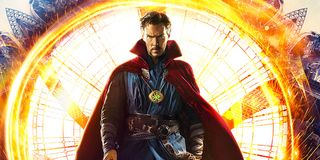 Thanos is one of the universe's most powerful beings, even when he's not harnessing the Infinity Stones. But the Mad Titan will still need help attacking Earth next year in Avengers: Infinity War. That's where his minions will come in, and last month, it was reported that like in the Infinity comic book event, Thanos will be aided by the Black Order. Now a new photo suggests that one of its members, Ebony Maw, will indeed appear in Infinity War, and he'll be clashing with Doctor Strange.
New Avengers: Infinity War set photos posted by JustJared show Benedict Cumberbatch laying on the ground fully costumed as Doctor Strange as a man in a CGI suit attacks him. At first glance, it's impossible to figure out who this other actor is playing, though his suit and the dots on his face indicate that he'll look especially alien-like. But on closer inspection, there is a tag on the actor's shoulder labeled "EB MAW," thus potentially identifying him as Ebony Maw for when the visual effects team looks at the footage later to craft the CGI for the character. Taken into account with the previous report about the Black Order, it seems likelier that Ebony Maw will be one of the warriors who will help Thanos assault the MCU heroes.
Ever since Wong revealed at the end of Doctor Strange that the Eye of Agamotto was an Infinity Stone, we've known that Strange would be a target for Thanos and his goons, and assuming the EB MAW tag does indeed mean Ebony Maw, he's the one the Mad Titan will send to attack the sorcerer. In the comics, Ebony Maw's main ability is being able to persuade others to do his bidding just by speaking. That would explain why Cumberbatch is just laying on the ground in those photos rather than fighting back. Ebony Maw isn't someone you send in for a battle of fisticuffs, but with his persuasive power, he could compel Strange to not resist as he takes the Time Stone from around his neck. Of course, until Marvel officially confirms who will be serving Thanos in Avengers: Infinity War, all we can say for certain right now is that Strange's magical powers aren't helping him fend off this adversary.
After lurking on the sidelines for half a decade, Avengers: Infinity War will see Thanos finally strike out to collect the Infinity Stone so he can bend reality to his vision. It's also worth mentioning that the members of the MCU's Black Order are rumored to be Thanos' "children," like Gamora and Nebula. But unlike those two, who left the Mad Titan's service, these beings are still on board with "Daddy's" plans to conquer and enslave the universe. If Ebony Maw does indeed appear in Infinity War, he's a good person for a purple-skinned, chair-loving warlord to have carry out his will.
Avengers: Infinity War hits theaters on May 4, 2018, but you can reunite with Doctor Strange earlier than that when he appears in Thor: Ragnarok on November 3.
Connoisseur of Marvel, DC, Star Wars, John Wick, MonsterVerse and Doctor Who lore. He's aware he looks like Harry Potter and Clark Kent.
Your Daily Blend of Entertainment News
Thank you for signing up to CinemaBlend. You will receive a verification email shortly.
There was a problem. Please refresh the page and try again.