Why Kingsman: The Golden Circle Brought Back Colin Firth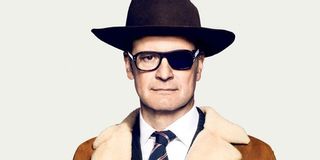 We're exactly one month away from the big screen debut of Matthew Vaughn's Kingsman: The Golden Circle. Inspired by the comic book series by Mark Millar and Dave Gibbons, The Golden Circle continues the adventures of Taron Egerton's Eggsy and, in a surprise move given the character's death in the 2015 original, Colin Firth's Harry Hart. Speaking together while promoting the new film, Firth and Egerton explained that Hart's return was not something that was decided on during the making of the first film, and that the decision to bring back Harry instead found an organic way into The Golden Circle's storyline. As the two actors put it:
The Obi-Wan Kenobi parallel that Taron Egerton mentioned to EW is particularly interesting given that the Star Wars character was also killed off in its franchise's first big screen chapter, only to reappear in subsequent films. While we shouldn't expect Colin Firth to reappear before Eggsy as a Force ghost in Kingsman: The Golden Circle, it's quite possible that Harry Hart's apparent death at the hands of Samuel L. Jackson's Valentine has left him changed in unpredictable ways (beyond the loss of his left eye). The spoiler-adverse Matthew Vaughn has made the point clear that Firth will be reprising the Harry role, but Firth's character has barely spoken in any of the footage released so far. Whatever the full rationale for Harry's survival turns out to be, there's probably going to be a lot more to the story than "he didn't actually die."
Kingsman: The Golden Circle isn't the first time that Colin Firth has returned for a big screen sequel. He reprised his Bridget Jones's Diary role as Mark Darcy in both sequels, Bridget Jones: The Edge of Reason and, released just last year, Bridget Jones' Baby. He's also slated to bring back a very different cinematic Harry, as he's confirmed to reprise his Mamma Mia! role, Harry Bright, in the upcoming sequel, Mamma Mia: Here We Go Again! He's likely to have both of his eyes in that one.
It's also worth nothing that Harry Hart's codename within the Kingsman organization was Galahad. In Arthurian legend, Sir Galahad becomes the only knight to recover the Holy Grail and is ultimately granted the ability to choose when his own death occurs. Could that end up tying to Hart's survival in some way?
Whatever mysteries lie behind Colin Firth's return in Kingsman: The Golden Circle, we're going to have to wait until the film hits theaters September 22 to see them fully revealed.
Your Daily Blend of Entertainment News
Your Daily Blend of Entertainment News
Thank you for signing up to CinemaBlend. You will receive a verification email shortly.
There was a problem. Please refresh the page and try again.