Where You Can Catch Hulk And Thor Fighting Each Other Next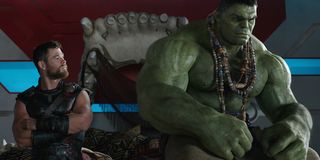 Thor and Hulk have been allies for the years in the Marvel Cinematic Universe, but the two heroes have had a few squabbles here and there, most notably during their first encounter in The Avengers. You'd think by now they'd be copacetic with one another, but when the God of Thunder reunites with Bruce Banner's monstrous alter-ego later this year in Thor: Ragnarok, they'll once again come to blows. Thankfully the two will eventually lay down their arms and team up later in the movie, but for those of you especially looking forward to their showdown on Sakaar, Marvel has announced a new comic book series that will see Thor and Hulk continuing to face off mano a mano.
It was announced today that starting next month, Marvel will begin publishing Thor vs. Hulk: Champions of the Universe, a miniseries that is being written by Jeremy Whitley and illustrated by Simone Buonfantino and Alti Firmasyah. The story will follow the two Avengers in the main Marvel Comics universe as they're forced to compete against one other by one of the Elders of the Universe. Instead of The Grandmaster pulling the strings like he will be in Thor: Ragnarok, the Elder in this series will be Champion, and Champion's promoter has set up contests to determine whether Thor or Hulk should fight his superior. Each issue will see Thor and Hulk transported to a different location to overcome a trial. It was also revealed (via THR) that Thor vs. Hulk: Champions of the Universe will be a digital-only series available for free to Comixology Unlimited subscribers, though one would imagine that eventually the miniseries will be compiled into a collection available for those who don't read their comics digitally.
It wasn't stated how many issues Thor vs. Hulk: Champions of the Universe, though comic book miniseries can last anywhere from six to 12 issues. Regardless, if you're looking for a little Thor vs. Hulk action before Thor: Ragnarok's release or wish to see them continue to engage in fisticuffs after the Marvel blockbuster, this will be the series to check out. This is also another example of Marvel publishing a special comic book series to capitalize on one of its movies or TV shows being released. For example, the Civil War II event hit stands shortly after Captain America: Civil War was released.
As for the MCU's versions of Thor and Hulk, they'll cross paths again in Thor: Ragnarok when Thor Odinson is tossed into Sakaar's gladiator ring and discovers that his friend from work has become that planet's top warrior. Their conflict won't last long, though, and once those two escape Sakaar with Loki and Valkyrie, they'll work together to stop Hela, the Asgardian goddess of death, and her allies from unleashing Ragnarok.
Thor vs. Hulk: Champions of the Universe #1 will drop on Comixology and Kindle September 6. Thor: Ragnarok storms into theaters on November 3, and be sure to look through our Marvel movie guide to find out what other cinematic MCU projects are slated for the coming years.
Connoisseur of Marvel, DC, Star Wars, John Wick, MonsterVerse and Doctor Who lore. He's aware he looks like Harry Potter and Clark Kent.
Your Daily Blend of Entertainment News
Thank you for signing up to CinemaBlend. You will receive a verification email shortly.
There was a problem. Please refresh the page and try again.