This Clowns-Only Screening Of IT Sounds Like A Real Nightmare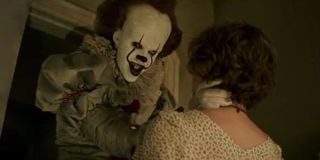 Now that the summer movie season has come to a close, all eyes are pointed to what's coming to theaters in September and October, the fall period before 2017's remaining blockbusters and the Oscar contenders start rolling in. One of next month's most highly anticipated releases is IT, the first theatrical adaptation of Stephen King's classic novel. We're just two weeks away from this horror movie arriving in theaters, but there's one particular screening coming up that will only cater to a specific demographic: clowns. I can't be the only one who thinks this is terrifying, right?
Earlier this year, the Alamo Drafthouse theater chain found itself in the spotlight when it scheduled a few women-only screenings of Wonder Woman, which quickly became a controversial issue. A few months later, the Drafthouse location in Austin, Texas has announced on its Facebook page that it will be holding a special screening of IT on Saturday, September 9 at 7 p.m., but you'll only be able to attend if you're dressed as a clown. So sorry to the folks out there who don't like painting their faces or dressed in goofy costumes. If you live in Austin and have a hankering to see IT Saturday night at 7, you'll need to go elsewhere. For those of you who are clowns, there will be face painters on hand for "touch-ups," a photo booth, a raffle for prizes and more. And yes, there probably will be balloons that float there.
If you're a clown enthusiast, then this IT screening is right up your alley. For everyone else, you won't get to know what it's like to watch this movie in a theater full of clowns. Given the creepy reputation these circus performers have acquired, no doubt for most this would be an unsettling experience. And then there's the concern about how many of those clowns will specifically resemble IT's eponymous figure, Pennywise, be it Tim Curry's version or Bill Skarsgard's version. Be warned: if one of those clowns comes up to inform you that you'll float too, you should probably hightail it out of there.
Arriving more than 25 years after the IT TV miniseries, the theatrical IT will adapt half of Stephen King's tale, when the young members of The Losers' Club as they come face to face with Pennywise the Dancing Clown, the shapeshifting entity that's responsible for the murders of dozens of children in Derry, Maine. Part 2 will reunite with these protagonist as adults when they return to their hometown and deal with Pennwise again. Mama's Andres Muschietti directed the movie, and its main cast includes Bill Skarsgard, Jaeden Lieberher, Jeremy Ray Taylor, Sophia Lillis, Finn Wolfhard, Wyatt Oleff, Mike Hanlon, Jack Dylan Grazer and Nicholas Hamilton.
IT scares its way into theaters nationwide on September 8.
Connoisseur of Marvel, DC, Star Wars, John Wick, MonsterVerse and Doctor Who lore. He's aware he looks like Harry Potter and Clark Kent.