One Get Out Star Wants To Be Scorsese's Joker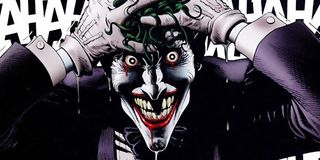 Last week, word broke that Warner Bros. Pictures and DC Comics are planning a Joker origin story movie that will be co-written and directed by The Hangover's Todd Phillips with none other than Martin Scorsese producing. Now, Lakeith Stansfield (opens in new tab) has taken to social media and his message is clear. He would like to play this iteration of the Joker:
Although Lakeith Stanfield's role in Get Out was brief, it was nevertheless memorable. The Jordan Peele film opens with the abduction of Stanfield's Andrew Logan King with the actor returning later in the story for a terrifying interaction with Daniel Kayuuya's Chris Washington. Elsewhere, too, Stanfield has become a talent well worth keeping an eye on. Following his impressive debut opposite Brie Larson in Destin Daniel Cretton's Short Term 12, Stanfield has gone on to star alongside Donald Glover on Atlanta, play Snoop in F. Gary Gray's NWA biopic Straight Outta Compton and headline the recent true drama Crown Heights. Many audiences are also witnessing the star's performance this weekend with the Netflix debut of Death Note. There, Stanfield plays L, an intense international detective who steals more than his fair share of scenes in the Adam Wingard manga adaptation.
It's important to note that Lakeith Stanfield's Twitter profile is not officially verified by the social media company. It nevertheless does clearly appear to be run by the actor and is followed by several verified accounts, including directors Jordan Peele, Rich Moore and Colin Trevorrow.
Oddly enough, this isn't the first time that Lakeith Stanfield has shared his love of the Joker. Responding to his new Twitter comment, some fans shared the below, now-deleted videos of the star in a Joker Halloween costume that borrows elements from both Heath Ledger's The Dark Knight portrayal and (with the teeth) the more recent Jared Leto Suicide Squad iteration.
This first video is particularly great since, true to the Joker's paradoxical nature, Lakeith Stanfield admonishes the viewer for not being original while dressed up like another actor's portrayal of Batman's arch nemesis.
Now, don't assume for a second that either of these videos are in any way indicative of the type of Joker performance that Stanfield would potentially bring to the big screen in the Todd Phillips film. This is simply the star having some fun. Since he is obviously a massive Joker fan and a truly gifted talent, though, this new Joker movie could do a lot worse than to set Stanfield to headline.
If Lakeith Stanfield doesn't get cast as the Joker for this Todd Phillips origin story movie, there are still quite a few other routes to the Clown Prince of Crime on the big screen. Between Suicide Squad 2, Gotham City Sirens, a Harley Quinn and Joker movie and Matt Reeves' upcoming The Batman, Warner Bros. and DC Comics may have to ultimately send in the clowns en masse.
Your Daily Blend of Entertainment News