Who The Young IT Stars Want To Play The Adult Versions Of Their Characters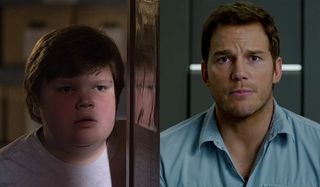 SPOILER WARNING: The following article contains very minor spoilers about Stephen King's novel, IT. If you haven't read or are unfamiliar with the the book, and don't wish to know any details before seeing the upcoming film, please bookmark this page and return after your screening!
When director Andy Muschietti's IT arrives in theaters on September 8th, audiences will have the opportunity to watch not only a great horror movie, but what is also really only half of Stephen King's epic original novel. While the new film entirely focuses on the protagonists' battle against the titular entity when they are children, it leaves the book's adult-centric storyline waiting for a sequel to be made. Exactly when we can expect this project to get off the ground remains a mystery, but there is a specific group of individuals who have already been doing a great deal of thinking about the follow-up: the young stars of the upcoming blockbuster.
This weekend I participated in the domestic press day for IT in Los Angeles, and during the event had the opportunity to sit down with Finn Wolfhard (Richie), Chosen Jacobs (Mike), Wyatt Oleff (Stanley), Jaeden Lieberher (Bill), Jeremy Ray Taylor (Ben), Sophia Lillis (Beverly) and Jack Dylan Grazer (Eddie). At the end of our discussion, I specifically asked if they had been thinking about the actors who should play the adult versions of their characters in IT: Chapter 2, and there was zero hesitation in their responses. So who would we see in this fantasy version of the sequel (which would probably double the budget)? Read on to find out!
Christian Bale as Bill
When we catch up with Bill in the second half of Stephen King's IT, he has managed to become a successful horror writer -- crafting fictional tales of terror while putting memories of his time with The Losers Club battling Pennywise behind him. When the group comes back together, however, Bill once again takes his position as unofficial leader, and that's certainly a job that could be well handled by Batman himself, Christian Bale.
Given that he is already 43 years old, Christian Bale would definitely be on the older side of the age spectrum within the IT: Chapter 2 cast proposed here -- but A) it's not really enough time to matter in Hollywood terms, and B) we're talking about an actor who is famous for his physical transformations. Bale would certainly do a great job with the evolution Bill undergoes through the story, and he won't even have to change his natural appearance that much to look like a grown-up Jaeden Lieberher.
Chadwick Boseman as Mike
While it's the disappearance/death of the young Georgie that really kick-starts the plot in the first half of Stephen King's IT, it's Mike who is ultimately responsible for bringing The Losers Club back together to battle Pennywise as adults. Unlike the other six in the group, Mike is the only one who stays in Derry, Maine -- which also puts him in the unfortunate position of alerting his friends that the evil entity they thought was destroyed is still alive and kicking 27 years later.
For his pick, Chosen Jacobs confidently suggested Chadwick Boseman for the part -- the actor set to turn 41 later this year. Boseman is certainly no stranger to high-profile roles both in the non-fiction (42, Get On Up, Marshall) and fiction (Captain America: Civil War, Black Panther) realms, and IT: Chapter 2 could set him up with a meaty role.
Jessica Chastain as Beverly
Sophia Lillis' choice for adult Beverly in IT: Chapter 2 is a smart one -- and not only because Jessica Chastain is an amazing actor, the right age for the role, and sports the proper hair color. Back in 2013, Chastain actually worked with Andy Muschietti on his feature directorial debut, Mama, and it would make plenty of sense that the filmmaker and star would reunite for the IT sequel. Plus, it doesn't hurt that the part should be a stand-out in the blockbuster, and needs a proper talent to bring it to life.
As seen adapted in IT, Beverly has a hard life even before her first encounters with Pennywise -- largely due to her family's poverty and her abusive father. It's a childhood she has a hard time fully escaping as an adult, as while she becomes a successful fashion designer, she is also trapped in a marriage to an cruel and violent husband. Getting Mike's invite back to Derry winds up giving her the strength to start fighting back again and change her life.
Bill Hader as Richie
Of all the casting suggestions made here, this is admittedly my favorite. For the role of adult Richie, Finn Wolfhard suggested that Bill Hader be given a shot, and it's really a perfect fit. Not only is there a similarity in the looks department, as seen in the side-by-side above, but Hader's natural personality just makes him a perfect fit for the character.
As a kid, Richie stands out as a jokey loudmouth who doesn't know when to shut the hell up, but it's a gift that actually winds up suiting him well professionally. His gift for gab gets him a cushy job as a Los Angeles radio personality, where he has the freedom to be his natural comedic self. If you don't see how Bill Hader is an obvious choice here, I don't know what to tell you.
Joseph Gordon-Levitt as Stanley
In case you couldn't tell, we've been doing our best to keep this feature as spoiler-free as possible - both for the first half of IT and the second... but what happens to Stanley makes that a bit more of a challenge. So without getting into too much detail, we will say that the role requires portrayal of real sensitivity and emotion, which Joseph Gordon-Levitt could certainly pull off - as Wyatt Oleff suggests.
Joseph Gordon-Levitt is rather picky about the projects he takes on, only appearing in one or two films per year, but hopefully he would see IT: Chapter 2 as an exciting opportunity (particularly if the production can assemble the dream ensemble that the young cast has imagined). He hasn't actually been in a horror movie since 1998's Halloween H20: 20 Years Later, so it could be a nice return to the genre for him.
Chris Pratt as Ben
Ben is mocked and tortured by bullies as a kid because of his weight, which is basically his entry ticket to The Losers Club. As an adult, however, he manages to turn his life around in that area. Not only does he become physically fit, but also finds success as an architect living in Nebraska. Unfortunately, he's still filled with plenty of demons for Pennywise to feast on when he arrives back in Derry.
Chris Pratt is essentially king among A-list actors right now, leading him to appear pretty much everywhere nowadays -- but there is an interesting extra layer that comes with Jeremy Ray Taylor's choice for adult Ben. After all, Pratt famously went from being the pudgy funny guy on Parks and Recreation to being the buff action hero lead of Guardians of the Galaxy -- so he can understand that side of the character. It also doesn't hurt that the guy is really pretty great in everything he does, which would only benefit IT: Chapter 2.
Jake Gyllenhaal as Eddie
At 36, Jake Gyllenhaal joins Joseph Gordon-Levitt on the younger end of the spectrum of this suggested cast, but the fact that the movie is probably still a few years away and that Gyllenhaal is a genius chameleon performer make Jack Dylan Grazer's idea of him playing Eddie a fantastic idea. He is arguably a bit to handsome for the part, but we have zero doubts that he could sell key emotional journey the character undergoes as an adult.
Obsessed with disease and germs courtesy of his hypochondriac mother, Eddie doesn't grow up entirely normal, and while he does manage to start a successful limousine company living in Chicago, he also marries a woman who is exactly like his overbearing mom. Even after maturing greatly as a kid during his adventures with The Losers Club, he will still have a long way to go when he returns to Derry in IT: Chapter 2, and it would be amazing to see an actor of Jake Gyllenhaal's caliber take on the challenge.
This poll is no longer available.
Assistant Managing Editor
NJ native who calls LA home and lives in a Dreamatorium. A decade-plus CinemaBlend veteran who is endlessly enthusiastic about the career he's dreamt of since seventh grade.
Your Daily Blend of Entertainment News
Thank you for signing up to CinemaBlend. You will receive a verification email shortly.
There was a problem. Please refresh the page and try again.