One Idea That Helped Convince Mark Hamill To Come Back To The Star Wars Universe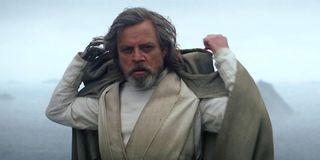 When Return of the Jedi concluded the original Star Wars trilogy in 1983, that marked the end of Mark Hamill's tenure as Luke Skywalker...or so he and the rest of us thought. When it was announced three decades later that Star Wars: The Force Awakens would pick up 30 years after the destruction of the second Death Star, Hamill, along with Carrie Fisher, Harrison Ford and many other Original Trilogy actors, was approached to reprise Luke. Hamill was initially hesitant to return to the Star Wars franchise after so much time had passed, but one thing that persuaded him to step back into Luke's shoes was by looking at the character's last movie appearance as the end of just one chapter in his life. In Hamill's words:
Mark Hamill certainly would have been within his rights to decline participating in the new Star Wars trilogy, but as he detailed to ABC News, looking at this return through a James Bond-like lens helped him realize that playing Luke Skywalker again could actually be a fruitful endeavor. When we left off with Luke at the end of Return of the Jedi, he'd succeeded in becoming a Jedi Knight and made peace with his father before the redeemed Anakin died. It was a fitting conclusion to Luke's journey from desert farm boy to mystical warrior, but it's not like his life just stopped after that. This sequel trilogy offered the opportunity to see how an experienced Luke differs from his younger self and how he would be as a mentor figure, just like Obi-Wan Kenobi was to him.
Of course, it's not like charting Luke Skywalker's development after Return of the Jedi is unexplored territory. For more than two decades, the Star Wars Expanded Universe followed Luke and his allies battling the remnants of the Empire and other threats in the following decades. All these tales were rendered non-canon in 2014 following Disney's acquisition of the Star Wars franchise two years earlier, wiping the slate clean to put a fresh spin on how the galaxy far, far away progressed after Return of the Jedi.
So far all we've seen of the older Luke Skywalker was at the end of Star Wars: The Force Awakens, when he was shocked to see Rey in front of him on Ahch-To with his old lightsaber in her hand. Specific details on Star Wars: The Last Jedi are still being kept under wraps even with only a few months until its release, but from what we've seen and learned so far, Luke in a much darker place from where we left him at the end of Return of the Jedi, in large part due to his nephew Ben, a.k.a. Kylo Ren, killing his other apprentices. He's even under the impression that the Jedi must end, so it remains to be seen whether he'll change his mind after spending some quality time with Rey.
Star Wars: The Last Jedi opens in theaters on December 15.
Connoisseur of Marvel, DC, Star Wars, John Wick, MonsterVerse and Doctor Who lore. He's aware he looks like Harry Potter and Clark Kent.