The Harry Potter Epilogue Takes Place Today, Here's J.K. Rowling's Response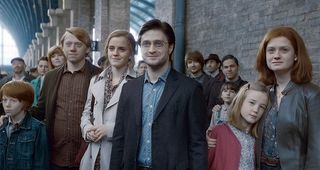 For Harry Potter fans, today has been a long time coming. When Harry Potter and the Deathly Hallows ended, author J.K. Rowling offered us an epilogue, which took us 19 years into the future and showed us what became of some of the surviving characters. By the book's timeline, September 1, 2017 is the day of the epilogue.
Here's J.K. Rowling's official tweet celebrating the occasion...
The end truly is here! It's also just the beginning...
Harry Potter spoilers ahead!
For those of you unfamiliar with the math, Harry Potter and the Deathly Hallows was published in 2007, a little over ten years ago. However, the actual timeline of the story is set through the 1990s. This was figured out by a few clues, the largest being Nearly Headless Nick's Deathday party, which took place on Halloween in Chamber of Secrets. Nick was celebrating his 500th Deathday, and on the cake, it noted his death was in 1492, making the Chamber of Secrets present day 1992. By that math, the Battle of Hogwarts took place in 1998, which would make 19 years later 2017. The Hogwarts Express picks up its students at King's Cross Station on September 1. And here we are, September 1, 2017.
Today is the day Harry and Ginny will put James and Albus on the Hogwarts Express, joining Hermione and Ron's daughter Rose, and Draco Malfoy's son Scorpius.
The epilogue offered some updates on where these adult versions of our beloved characters ended up. Ginny and Harry have three kids, the third of which is Lily, who's not yet of age to attend Hogwarts. Hermione and Ron also have a young son named Hugo. And we found out that Neville followed his passion for magical plants by becoming the Herbology professor at Hogwarts. Meanwhile, Lupin and Tonk's son Teddy was hitting it off with Bill and Fleur Weasley's daughter Victoire.
As one fan pointed out today on Twitter, "You know what that means? Teddy and Victoire are snogging," to which J.K. Rowling replied...
All signs pointed to life being good for the Potters and Weasleys by this point in the timeline. But in 2016, we found out what happened next when the theatrical production, Harry Potter and the Cursed Child, made its debut in London. For those who haven't seen it, or read the script book, the story picks up where the epilogue left off, and gave us better insight into what's going on with Draco Malfoy, and more importantly, his son Scorpius.
As the play is considered canon, the official Harry Potter timeline doesn't stop with the present. But this is the date where the books leave off. If the Potterverse were real --- beyond being extraordinarily real in our hearts and imaginations --- Harry's son Albus Severus is about to set off on his first trip to Hogwarts, where he'll embark on a few huge adventures of his own.
19 years later is a significant amount of time. Coincidentally enough --- or perhaps not --- it's also the amount of time that J.K. Rowling plans to span through the course of the planned Fantastic Beasts movies. The first Fantastic Beasts film was set in 1926. If the four additional films do stretch over the course of 19 years, we should end up in 1945, which just so happens to be the same year Dumbledore faces off against Grindelwald? Is that a coincidence? We think not.
Kelly joined CinemaBlend as a freelance TV news writer in 2006 and went on to serve as the site's TV Editor before moving over to other roles on the site. At present, she's an Assistant Managing Editor who spends much of her time brainstorming and editing feature content on the site.
Your Daily Blend of Entertainment News
Thank you for signing up to CinemaBlend. You will receive a verification email shortly.
There was a problem. Please refresh the page and try again.