Are Pennywise And The Babadook Actually Dating? The Internet Is Investigating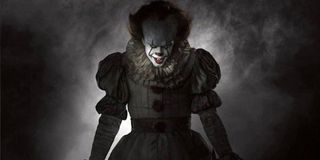 It's hard to find a loving partner who truly gets you, isn't it? Now imagine trying to find love as a demonic entity from a horror movie. It probably makes things harder. On that note, we wouldn't expect someone like Pennywise from Andy Muschietti's IT to be the "settling down" type, but certain segments of the internet seem to have decided that the fear-consuming clown is not only gay, but he's also in a committed and loving relationship with the titular creature from 2015's The Babadook. You read that correctly, now let's dive in and talk this out.
This whole thing kicked off earlier this summer when the internet collectively decided that Mr. Babadook is an LGBT icon -- a decision that was arrived at when a post explaining that Netflix accidentally filed the horror film under its "LGBT" category surfaced online. Folks all over the web latched into the idea, and the character even started "showing up" at LGBT Pride events across the country. Now the internet seems to have come to the same conclusion about Pennywise, and this new fan theory postulates that he is dating the Australian manifestation of grief that terrorized a mother and her son back in 2015. I guess it makes sense when we look at the details; the dating pool for terrifying gay movie monsters can't be all that deep these days, right?
This decision has even spurred the creation of some delightfully goofy fan art, and I have to be completely honest with you, they look like the happiest possible couple on their way to get some crepes and haunt children together.
Or this one wondering which member of the couple wears the better outfits.
And finally, there's this hilarious one of someone trying to get in on the action with Pennywise and Mr. Babadook.
So is any of this Babadook/Pennywise stuff canon? Of course not. It's just a funny joke, as well as a hilarious continuation of a meme that dominated the web a few months ago. That said, if future movies featuring Pennywise or The Babadook need to find ways to flesh out these monsters and take them in new directions, then they could obviously attempt to embrace this idea as the new canon. After all, many people seem to have fallen in love with the idea of them falling in love. Who knows? Maybe finding a stable relationship will settle Pennywise down in a way that will make life easier for The Losers Club. We hope so, but given the fact that IT 2 is coming, we kind of doubt it.
If you want to see Pennywise's less romantic side, then make sure to check out IT -- which is currently in theaters, earning stellar reviews, and making record-breaking amounts of money in the process. Looking ahead to the rest of the year, take a look at CinemaBlend's movie premiere guide to see what else 2017 has in store for audiences!
Originally from Connecticut, Conner grew up in San Diego and graduated from Chapman University in 2014. He now lives in Los Angeles working in and around the entertainment industry and can mostly be found binging horror movies and chugging coffee.
Your Daily Blend of Entertainment News
Thank you for signing up to CinemaBlend. You will receive a verification email shortly.
There was a problem. Please refresh the page and try again.