A Long-Dead Marvel Movie Could Get Revived For Phase Four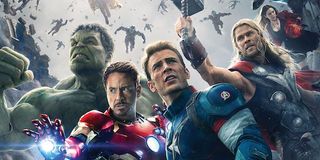 The end of an era is fast approaching for the Marvel Cinematic Universe. Avengers: Infinity War is kicking off the beginning of the end next year, and Avengers 4 in 2019 will not only conclude the MCU's Phase Three, but will also be the culmination of what this franchise has been building to since its inception in 2008. But that won't spell the end of the MCU altogether, as there are already a few movies planned for Phase Four. Now there's word that Marvel is possibly considering reviving the long-dead Power Pack project as one of the entries of this upcoming slate.
Back in 2010, Power Pack was reported to be in consideration for development as an MCU project, but nothing ever surfaced from that. Seven years later, The Hashtag Show has heard that Marvel is reconsidering bringing Power Pack to the big screen as a "Spy Kids-like story." In other words, it will probably be more family-friendly compared to the MCU's other theatrical offerings. Jonathan Schwartz, who has been with Marvel Studios since 2009, has reportedly been given "executive oversight" on Power Pack, but the article stresses that this particular project hasn't been dated or even greenlit yet. Marvel Studios is merely exploring the possibility of bringing the superpowered kids into this shared universe.
Introduced in 1984's Power Pack #1, the Power Pack team is made up of the Power siblings: Alex, Julie, Jack and Katie.In the comics, an alien nicknamed Whitey who had come to Earth to stop the quartet's father, physicist Dr. James Power, from accidentally destroying Earth with his antimatter experiment. However, Whitey died before he could accomplish his mission and rescue James and his wife Margaret from being kidnapped by an alien faction, so he gave the kids his powers before passing. As a result, Alex, a.k.a. Gee, could manipulate gravity; Julie, a.k.a. Lightspeed, could fly via rapid forward propulsion; Jack, a.k.a. Mass Master, could control his own density; and Katie, a.k.a. Energizer, could disintegrate matter. With their new abilities, the Power children were able to save their parents and stop the antimatter test, and they officially became superheroes soon after. Outside of the comics, the Power Pack has appeared in The Super Hero Squad Show and in a live action TV pilot that was made in 1991 for NBC, but wasn't ordered to series.
Power Pack isn't the only family-friendly superhero movie which is reportedly in the works. 20th Century Fox is supposedly working on a Fantastic Four movie that would focus on Reed Richards and Sue Storm's children, Franklin and Valeria. Throw in the upcoming Incredibles 2, Sky High 2 and Astro Boy, as well as Big Hero 6 (another Marvel Comics property) from a few years back, and it would appear that Hollywood is eager on providing younger superhero fans more big screen tales for them to enjoy.
If there are more developments on this Power Pack movie, we here at CinemaBlend will be sure to let you know. In the meantime, you can look through our Marvel movie guide to see what other projects this franchise has coming down the pipeline.
Your Daily Blend of Entertainment News
Connoisseur of Marvel, DC, Star Wars, John Wick, MonsterVerse and Doctor Who lore. He's aware he looks like Harry Potter and Clark Kent.