The Astro Boy Movie Just Took A Big Step Forward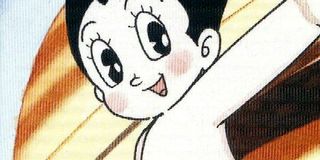 About a year ago we got word that a live-action film adaptation of the popular Astro Boy comic was being planned. Now, the project has finally added some new players to get it done.
A story from The Hollywood Reporter says that writers have been attached to the project. Writers Andre Fabrizio and Jeremy Passmore, who worked on San Andreas, will be penning the script.
Astro Boy is a Japanese manga series created by Osamu Tezuka which ran from 1952 until 1968. The science fiction story is set in the future, in a time when robots and humans co-exist. The titular character is an android created by the head of the Ministry of Science, Dr. Tenma. The doctor creates Astro as a replacement for his dead son Tobio, who perished in a car accident. When Dr. Tenma realizes that Astro won't be able to replace his son, he rejects him and sells him to a mean circus owner.
When the new Ministry of Science head, Professor Ochanomizu, finds Astro Boy at the circus he convinces his owner to hand him over. Astro is then treated with kindness and the professor becomes his legal guardian. Ochanomizu soon realizes that Astro has amazing skills and the ability to have human emotions. It isn't long before Astro becomes a crusading crime fighter; tackling evil and injustice wherever he sees it. His main enemies are alien aggressors, robots gone amuck and those who hate humans. Astro has seven powers: jet flight, 100K horsepower strength, adjustable hearing, a high IQ that can tell if a person is good or evil, high intensity lights in his eyes, a retractable machine gun in his hips, and instant language translation.
The manga was turned into a live-action Japanese TV show, which lasted for about one year. The animated television show, Astro Boy, was released in 1963, and became the first of its kind to popularize the now well-known anime style of animation. That series lasted for four seasons, with a total of of 193 episodes being produced. The show was remade in the 1980s and again in 2003.
The last big screen version of an Astro Boy film was an animated effort that was released in 2009. The voice cast for that feature included Kristen Bell, Charlize Theron, Alan Tudyk and Nicolas Cage, but the movie tanked at the box office. Worldwide, the movie only made about $39 million, against the $65 million it took to make the film, before marketing costs are even thrown in.
So, why try a live-action version so soon after the big screen animated version failed? Well, this feature is planning to shed some of the more childlike aspects of the character and story, so that it will be more appealing to adult audiences. Also, it is based on what's essentially a comic, and we know how big those adaptations are right now. Starting with a well-known and already beloved series at least gives the creators of the film a solid start in crafting something that will catch audience attention. Now that the project is solidly underway, all Astro Boy fans can do is hope that they get it right this time.
Yennefer's apprentice, Gilmore Girl; will Vulcan nerve pinch pretty much anyone if prompted with cheese...Yes, even Jamie Fraser.
Your Daily Blend of Entertainment News
Thank you for signing up to CinemaBlend. You will receive a verification email shortly.
There was a problem. Please refresh the page and try again.