Tom Cruise Just Answered All The Butt-Related Questions We Have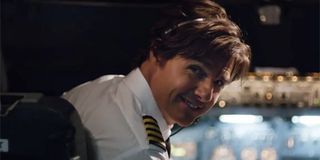 There were a lot of things I expected out of 2017, especially in the realm of weird political stuff, but one thing I did not expect to be writing about was Tom Cruise's butt. Yet, here I am and it's not even October and this won't even be the first article about Cruise's derriere CinemaBlend has written in recent weeks. The good news? If you wanted an answer regarding the Valkyrie butt theory that hopped around the Internet a few short weeks ago, there is one, courtesy of Tom Cruise, who revealed in a recent interview that it's definitely his butt in the 2008 movie. He said:
Well, that was short and sweet. The actor has made it clear that all of those images of Tom Cruise's weird, padded-looking butt that were rolling the Internet were simply a bad angle, at least according to what the A-list actor has said. The Internet had a lot of fun with the concept after one Twitter user submitted the actor may be wearing butt pads during at least one scene in Valkyrie, with some saying that's the only way Cruise could have achieved the look. However, we should note that Tom Cruise had plenty of defenders when the post initially went viral, and now it looks as if the "butt pads" may have just been the case of a weird camera angle and a really tight belt. Of course, you can take a look and judge for yourself, below.
If the mention of Tom Cruise's Valkyrie butt doesn't do it for you, and you happen to be more excited about Tom Cruise's American Made, ScreenRant also took the opportunity to ask about Cruise's butt in the new movie, which apparently--and minor spoilers--makes appearances via some mooning footage when Cruise's character leaves on his smuggling missions. Plenty of actors have used body doubles any time any sort of nudity rolls around. For instance, Mila Kunis famously used a butt double while filming Friends with Benefits. So, it does happen, but according to Tom Cruise, he does his own butt stuff.
Returning to the Valkyrie issue, so far no one else has bothered to speak out about whether or not Tom Cruise really has back, including Valkyrie writer Christopher McQuarrie. So, I suppose for now, we'll just have to take Tom Cruise's word on the matter. Too bad we can't bring his hips into this discussion. I hear they don't lie.
American Made hits theaters on September 29. You can take a look at what else is heading into theaters soon with our full schedule.
Reality TV fan with a pinch of Disney fairy dust thrown in. Theme park junkie. If you've created a rom-com I've probably watched it.
Your Daily Blend of Entertainment News
Thank you for signing up to CinemaBlend. You will receive a verification email shortly.
There was a problem. Please refresh the page and try again.