Why Tom Cruise Signed On For His New Movie American Made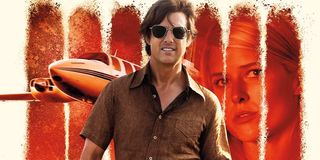 Next month, Tom Cruise is reteaming with his Edge of Tomorrow director Doug Liman for American Made. Based on a true story, the film finds the three-time Academy Award nominee playing the part of Barry Seal, a pilot-turned-drug runner who, in 1984, was recruited to be an undercover CIA informant for one of the biggest drug busts in history. While Seal may not be one of the most virtuous of real life figures, Cruise says that it was Seal's incredible true story that was just too interesting to pass up. Cruise said:
Tom Cruise isn't kidding about Barry Seal's interesting life. Born in Louisiana, Seal grew in Baton Rogue until a six year stint in the Army National Guard helped him follow his true passion, flying. He had already earned his pilot's license by age 16 and after his service in the armed forces, he became a distinguished command pilot for TWA. It was sometime later that he was contacted by Colombia's infamous Medellín Cartel. Repeatedly smuggling drugs for the cartel, Seal would earn as much as half a million dollars per flight. Unfortunately for him, it wasn't long before Seal was arrested and sent to prison. Thanks to a plea deal, however, Seal agreed to go undercover on behalf of the CIA.
Although evidence that Barry Seal obtained helped bring down some very powerful and dangerous men, it ended up costing him his own life. In 1986, Seal was shot to death by a pair of assassins. They were both caught and were discovered to be in the employ of the Medellín Cartel.
Surprisingly, American Made is only Tom Cruise's fourth time playing a real person. In 1983, he headlined Michael Chapman's sports biopic All the Right Moves. He then received his first Academy Award nomination for his work in Oliver Stone's 1989 Born on the Fourth of July, starring as paraplegic Vietnam War veteran Ron Kovic. It was then nearly two decades before Cruise played Colonel Claus von Stauffenberg in Bryan Singer's true WWII thriller Valkyrie. Although the film itself was based on actual events, Cruise played a fictional character in Ed Zwick's 2003 The Last Samurai.
Of course, American Made also offers some parallels to fictional Tom Cruise projects. We've seen the star have some other airplane trouble recently in The Mummy and Mission: Impossible - Rogue Nation. Meanwhile, American Made's trailer features a scene almost identical to one in last year's Jack Reacher: Never Go Back. In both, Cruise plays a character who is able to successfully taunt police officers with the knowledge that they're going to have to let him go.
We don't have long to wait until American Made makes it to theaters September 29. You can also read about it and eight other September releases that we're looking forward to checking out.