We Can't Get Enough Of The Tom Cruise Fake Butt Theory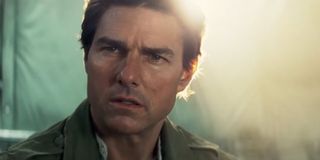 If you report on entertainment long enough, you eventually witness some pretty crazy stuff. From hilarious game show fails to high-profile celebrity breakups, I often think I've seen it all. Oh, how wrong I was to believe that. In fact, there is now a hilarious (and downright bizarre) theory circulating the web that Tom Cruise wore a fake butt on the set of the 2008 film Valkyrie, and we honestly cannot get enough of it. Take a look at the shot in question below, and feast your eyes on the badonk in all of its glory.
Talk about gluteus maximus; am I right? The scene that has captured the imagination of the internet takes place towards the beginning of Valkyrie, in which Claus von Stauffenberg (Cruise) suffers a life-changing injury during an Allied bombing run. Cruise stands up after one of the initial strafes, and the way his pants seem to fit on his derriere suggests that he's a man of improbable, inhuman butt proportions. Because of this, some began to theorize that Cruise wore a prosthetic butt on the set of the film to accentuate his hindquarters in the shot.
In the interest of fairness, other fans have also gone through that picture of that sequence from Valkyrie and come up with some fairly compelling evidence to suggest that Tom Cruise didn't wear a fake butt for the scene; he's just low-key thicc. Check out a GIF version of that shot below to get a better sense of what the Top Gun star looks like in the scene.
Having established both sides to this debate, if any Hollywood actor has a chance of possessing a butt with those specific, Kardashian-esque proportions, then Tom Cruise seems like a solid bet. Even at age 55, the guy continues to keep himself in excellent shape, and the action icon was only in his mid-40s at the time of Valkyrie's release. Considering the sheer amount of running this guy does in all of his movies, as well as the commitment he brings to his stunt work (which recently led to a leg injury on Mission: Impossible 6), it's possible to imagine that this could be a legitimate shot of a legitimate butt.
At this point, we will probably never know whether or not Tom Cruise wore a fake butt on the set of Valkyrie. It's a pretty ridiculous claim, but then again, Hollywood never fails to surprise us. Until we get some definitive answers, make sure to take a look at our 2017 movie premiere guide and catch Tom Cruise in Doug Liman's American Made next month on September 29.
Originally from Connecticut, Conner grew up in San Diego and graduated from Chapman University in 2014. He now lives in Los Angeles working in and around the entertainment industry and can mostly be found binging horror movies and chugging coffee.