How Live Die Repeat And Repeat Will Be Different Than Edge Of Tomorrow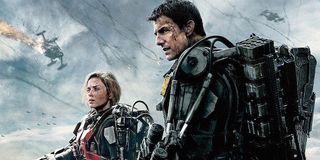 Considering the fanbase that Edge of Tomorrow has developed since its 2014 release, the sequel has a lot to live up to. Luckily, it sounds like the folks behind the next flick, tentatively titled Live Die Repeat and Repeat, want to make sure that the highly anticipated follow-up is every bit as innovative as the first film. According to director Doug Liman, part of that will involve breaking away from the structure of the first film and sending the story of Tom Cruise's Bill Cage back in time in a way that we haven't seen before. Liman opened up while promoting American Made and explained that Edge of Tomorrow 2 will look a little different.
Doug Liman's comments to Yahoo Movies about Live Die Repeat and Repeat's story continue to double down on frequent his assertion that the movie will play with time in a way that we haven't seen before. He has previously gone on record saying that the sequel also serves as a prequel to Edge of Tomorrow, and it will "revolutionize" the way Hollywood treats follow-up movies. Rather than recycle the original film's Groundhog Day-esque format, Live Die Repeat and Repeat may chronologically take place before the original, while allowing the heroes to use the skills they acquired during their first adventure. In the (literally) immortal words of Deadpool's Wade Wilson, "these timelines are so confusing."
It's not hard to assume that Doug Liman and Tom Cruise have quite a bit of goodwill going into this second installment in the Edge of Tomorrow story. In the face of a somewhat lackluster theatrical run (not to mention some woefully misguided studio notes during the first film's development), the property has gone on to maintain a strong fanbase that seems to appreciate its commitment to hard sci-fi. Given Liman's own enthusiasm for the direction of the story, there's a lot to get excited about.
It also sounds like Doug Liman intends to switch up the way Live Die Repeat and Repeat treats its lead character. During a chat with CinemaBlend about the project earlier this summer, Liman explained that the story of the next film will evolve Tom Cruise's Bill Cage into a true hero, rather than the definitively self-serving anti-hero that he remains at the climax of Edge of Tomorrow -- though he now admits it will still retain some of that anti-hero charm. With a new storytelling format that tinkers with the chronology of the universe and some new territory to cover for its lead character, Live Die Repeat and Repeat could shape up to be one of the most interesting sequels in recent memory.
CinemaBlend will keep you posted with more information related to Live Die Repeat and Repeat as new details about the prequel/sequel become available. Until then, check out Doug Liman's latest collaboration with Tom Cruise when American Made hits theaters later this month on September 29, and take a look at our 2017 movie premiere guide for more up-to-date information on the rest of this year's silver screen releases!
Originally from Connecticut, Conner grew up in San Diego and graduated from Chapman University in 2014. He now lives in Los Angeles working in and around the entertainment industry and can mostly be found binging horror movies and chugging coffee.
Your Daily Blend of Entertainment News
Thank you for signing up to CinemaBlend. You will receive a verification email shortly.
There was a problem. Please refresh the page and try again.