Edge Of Tomorrow 2 Will Revolutionize Sequels, According To Doug Liman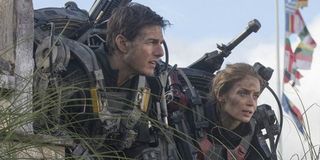 Edge of Tomorrow was a solid science fiction hit with an interesting premise. Its success has led to a sequel which is apparently planning to be a great deal more than a movie with an interesting premise. The film's director seems to think it will change movies forever. No, seriously. Doug Liman is making one of the boldest statements in recent memory about how big a movie Edge of Tomorrow 2 will be.
Doug Liman made the statement to IGN, who asked for clarification on what Doug Liman meant. The director wouldn't elaborate, but he reinforced his comments, and added a "mark my words" for good measure. So, yeah, Doug Liman thinks his film is going to "revolutionize" how sequels are made.
What the hell does that mean?
What could they possibly be planning with an Edge of Tomorrow 2 that could potentially change everything so drastically? While most sequels are fairly straightforward to be sure, we've certainly had our fair share of follow-ups that have been pretty creative in the way they came to the screen. J.J. Abrams Star Trek was essentially a sequel, but it was one that reset the timeline of the entire franchise. Terminator: Genisys did the same thing. 10 Cloverfield Lane was a claustrophobic suspense film that followed a kaiju disaster movie. Each one was a surprising, sometimes shocking, sequel but few would argue that they "revolutionized" anything. Doug Liman isn't just saying that his sequel will be different, he's saying all sequels will be different after we see Edge of Tomorrow 2.
We could certainly see an Edge of Tomorrow 2 that plays with the timeline of the first movie. The ability to repeat the same period of time was the major conceit of the original movie and as the film essentially ends right where it begins, we could potentially see a sequel that doesn't take place after the first movie, but essentially during the first movie. While something like that certainly sounds interesting, it wouldn't be a particularly revolutionary idea, Back to the Future Part 2 did it back in the 90s. We also have to wonder if Tom Cruise will be the one ultimately responsible for changing sequels as we know them. We know he had an idea for a sequel that really got people very interested.
Of course, if Doug Liman is right and his idea is going to change everything, it's highly unlikely we'd be able to guess what it is. How can we predict something we've never seen before if we've never seen it before? Liman is promising a lot here, but if he delivers nobody will be complaining. We can't wait to see what he's got planned for Edge of Tomorrow 2 Unfortunately, we'll be waiting for a while. The project has no planned release date at the moment.
Your Daily Blend of Entertainment News
Content Producer/Theme Park Beat
CinemaBlend's resident theme park junkie and amateur Disney historian. Armchair Imagineer. Epcot Stan. Future Club 33 Member.