9 Best Spy Movies on Netflix Right Now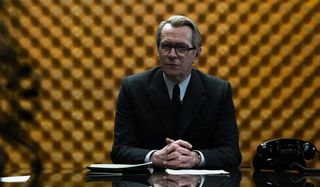 This weekend marks the return of Eggsy Unwin, international agent of intrigue, as Kingsman: The Golden Circle aims to please the world with its unique blend of bawdy humor and thrilling action. Naturally, a lot of readers have plans to see Matthew Vaughn's follow-up to Kingsman: The Secret Service, but what about after the movie? All of that spy action might leave you wanting more clandestine operations to watch from the comfort of your own home? Well, Netflix happens to have nine fantastic options of espionage, ranging from flat-out comedies to dead serious pot boilers. Here's our list of spy films that you can check out once you've returned home from the theater.
Tinker Tailor Soldier Spy
It seems like Tinker Tailor Soldier Spy is one of those "best movies no one's ever seen." That statement is disappointing on two levels: first, and most importantly, this John Le Carre adaptation is one of the best to come out of the author's canon. The grim nature of Le Carre's spy games, as well as 1970's Europe, really shines through in this film, and in such a way that it benefits the story rather than just set the scene. But the second reason this film demands more eyes is, quite simply, it's an all star cast giving amazing performances, anchored by Gary Oldman's Oscar worthy (but sadly, not winning) performance as George Smiley. Watch this and weep that the future books in the series aren't being developed as sequels.
Johnny English Reborn
Were one to look up a list of franchises that have stealthily survived to the surprise of its audience, Johnny English would be one of those series. Just when you thought there'd never be a sequel, Johnny English Reborn came out of the blue to surprise everyone. The bigger surprise was just how much fun the sequel actually was, with a bigger scope of action and better spy-jinks given to Rowan Atkinson's titular spy in his second outing. The spy action holds up, and the bumbling is in top form, as Johnny English stumbles his way to saving the world again. And before you ask, yes, there's a third film in the works for next year.
The Debt
Back to the world of grounded spy thrillers, The Debt manages to tell a fresh story in the world of espionage, as it side steps the typical formula by following on Israeli Mossad agents during the Cold War era. Though the film does focus on the pursuit of a Nazi agent, showing three spies coming up through the ranks around the same time, on a mission that they may or may not have completed. One of Jessica Chastain's earliest film roles, The Debt also distances itself from typical spy fare by asking complicated moral questions in what could have been a standard Nazi-hunting adventure.
Spy Hard
In that turbulent era between The Naked Gun films and the first Scary Movie, parody films had a bit of a sabbatical. But they didn't go away completely, as the delicious oddity known as Spy Hard not only existed, it managed to land towards the better side of the scale lampoons are measured on. With Leslie Nielsen and Andy Griffith fighting over the security of the world, the only way this film could get funnier/odder is if Weird Al provided the theme song. And sure enough, Al croons the film's opening tune that sends up the James Bond franchise in only the best way.
In Like Flint
If you're an Austin Powers fan through thick and thin, or a hardcore spy film aficionado, you've probably heard of In Like Flint. But for those of you who know this as more of a turn of phrase than an actual film that exists, it's time to correct that notion, as James Coburn's sequel to Our Man Flint is truly something you have to see to believe. While the gender politics are more than a little outdated, Coburn's leading man charm has surely stood the test of time. Keeping that warning in mind, you might just find yourself enjoying In Like Flint, as it's still a short and zippy film to enjoy.
Burn After Reading
Imagine a dark comedy where the subjects of infidelity, Russian spies and physical fitness all converge to shape a tale about an unhinged CIA agent's declining sanity. If you guess that this film was a product of the Coen Brothers, you get a cookie; but if you think Burn After Reading is a reaction piece they've crafted towards for topical political laughs, you'll need to give us back that cookie. It's been almost 10 years since John Malkovich, George Clooney, Francis McDormand and Brad Pitt romped across Washington D.C., all in the name of money and revenge. And yet, if you showed people this movie today, they'd probably tell you it's a sign of the times. Needless to say, this comedy of idiots holds up as one of the screwiest Coen Brothers films to ever exist.
The Imitation Game
The work of the men and women at Bletchley Park during World War II provided a vital component to England's efforts in combating the Nazi scourge. In particular, their decoding of the Enigma cipher was a pretty important portion of that success, which is part of what's covered in The Imitation Game. The film's larger narrative focuses on Benedict Cumberbatch's performance as mathematic genius Alan Turing, and the difficulties he faced both in work, as well as in life. Rather than tell either story as a B-plot, Turing's persecution as a homosexual and work on the Enigma decryption are merged into a cohesive narrative that's as heartbreaking as it is historically relevant.
Cats & Dogs
Even the kids in our audience deserve quality spy games, which is primarily why Cats & Dogs made this list. Though, if you ask us, this is still pretty entertaining for any adults who are asked to sit through action comedy that pits felines against canines in an all-out battle for humanity. But even if the main story doesn't do it for you, there are two performances that'll, at the very least, manage to earn a couple of laughs: Sean Hayes' Mr. Tinkles and Jeff Goldblum's dopey scientist/father figure to the child protagonist of our film.
xXx
How can we leave Vin Diesel's Xander Cage off of this list? xXx is one of those leftovers from the early Aughts that still manages to crack a smile on our faces. Back when extreme sports were still a thing, and Vin Diesel was allergic to sequels, this fast and furious spy film tried to give James Bond a run for his money. To a certain extent, Cage did best Bond, as not only was the famous super spy sacrificed in effigy during the film's opening sequence, but xXx is a better remembered film than Die Another Day, the Bond offering that would be released later that same year. Judge for yourself, as you could be watching this adventure on Netflix right this moment.
Your Daily Blend of Entertainment News
Senior Movies Contributor
CinemaBlend's James Bond (expert). Also versed in Large Scale Aggressors, time travel, and Guillermo del Toro. He fights for The User.