One Major Development Jaegers Are Going Through In Pacific Rim Uprising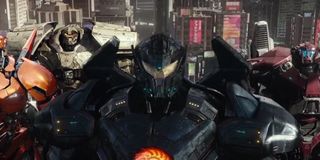 As you would expect, the world in the Pacific Rim universe was completely changed with the arrival of the destructive monsters called as Kaiju. The technology and pilots behind the Jaeger program were able to stop the creatures and close the portal to their dimension, but still years later people aren't sure how to feel about it, and fear what the future could hold. This is an important aspect of the setting in director Steven DeKnight's upcoming Pacific Rim Uprising, but as we learned from producer Cale Boyter on the set of the sequel earlier this year, there are a number of layers to that atmosphere. Said Boyter,
Pacific Rim Uprising completed its production in Sydney, Australia earlier this year, and it was on a weekday in January that I joined a small group of other journalists to visit the set, observe filming, and do interviews with the cast and filmmakers. We had a lot of time with Cale Boyter, who is a producer at Legendary Pictures, and he did a great job breaking down how the world has changed between the events of Guillermo del Toro's movie and Steven DeKnight's.
As we learned in Pacific Rim, the operation of the giant robots known as Jaegers isn't exactly simple. The size of the enemy dictates that they be so big that they require two pilots to operate -- but they aren't exactly using buttons and dials. Instead, the two individuals in the cockpit (or Conn-Pod) are mentally linked through what's called The Drift, and the Jaeger directly responds to their shared actions. This is obviously a rather intense process, so you can totally understand why a company might think that the future is operating the machines as drones. But just like many having the debate in the military today, there is an argument that drones simply cannot be as effective as trained pilots at the wheel.
It's worth noting that this dispute continues despite the fact that the world has not actually seen a Kaiju attack in nearly 10 years. As the trailers for Pacific Rim Uprising show, however, those who are constantly paranoid about their return very much turn out to be correct -- and it turns out to be a very good thing that the Jaeger program was kept alive and that new pilots were consistently being trained.
On that note, it's worth noting that the Jaeger technology has also continued to evolve in that same time frame, and the new creations are sporting some fun toys that the world has never seen before. Head on over to Page 2 to find out more about what we learned on the Pacific Rim 2 set!
Fans were introduced to some amazing Jaeger designs in the first Pacific Rim, such as the legendary Gipsy Danger and the three-armed Crimson Typhoon, but director Steven DeKnight and producer Cale Boyter told us that particular game was being stepped up in Pacific Rim Uprising. At the time they couldn't tell us too much about what they were cooking up, but they did tease some unique special abilities for each one.
While we were sitting down with Cale Boyter, Steven DeKnight used one of his breaks during production to come over and speak with us as well. During that conversation, we asked about what we could expect from the new designs in the Pacific Rim sequel, and the filmmakers teased,
John Boyega, who stars as Jake Pentecost in Pacific Rim Uprising, also added his two cents to the conversation when we spoke to him alone later in the day. Using video game terminology, he also noted that each of the new designs have a special trick up their sleeve. Discussing his own ride, Gipsy Danger, Boyega said,
Fans have been waiting years for a return to the world of Pacific Rim, but that time is almost at an end. Pacific Rim Uprising is schedule to arrive in theaters in early 2018 -- on March 23rd to be exact -- and you should definitely stay tuned here on CinemaBlend for more of our coverage from the set.
Your Daily Blend of Entertainment News
Assistant Managing Editor
NJ native who calls LA home and lives in a Dreamatorium. A decade-plus CinemaBlend veteran who is endlessly enthusiastic about the career he's dreamt of since seventh grade.