That Time The Internet Reminded Us That Jurassic Park Could Totally Be Nodding At The Goonies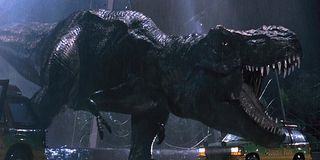 Despite the sheer amount of modern technology used to create it, Steven Spielberg's Jurassic Park is a love letter to movies of a bygone era. It is chock full of great references to some genuinely beloved adventure films, and more than two decades decades after the film's debut, we are still picking up on new nods and Easter eggs. In fact, one specific Jurassic Park reference to The Goonies recently resurfaced online, and it has officially reminded us of how great both movies really are. Check it out below.
This picture from Twitter user Shawn Robare has been circulating the internet for a while, and it is a firm reminder that it really does look like Jurassic Park went out of its way to make Dennis Nedry's various costumes reference Chunk, Mouth and Mikey's costumes from The Goonies. Just think, if Nedry had only tried to find One-Eyed Willy's gold instead of stealing John Hammond's precious embryos for Biosyn, then maybe he would still be alive right now to do his own version of truffle shuffle instead of being turned into dino-chow during a storm.
It would make quite a bit of sense for a movie like Jurassic Park to have a reference to a film like The Goonies. Although they are incredibly different narratively, both films have become beloved by many audience members for their respective senses of adventure, as well as their heightened depictions of reality. Moreover, because Steven Spielberg was also an executive producer on The Goonies, it seems likely that this might be more than a coincidence. He had a hand in the production of both movies, so he would easily be able to pick out little moments to homage and pay respect towards them.
Of course, this discovery also once again raises the long-standing question of whether or not we will ever see even more adventures in The Goonies universe. The possibility of a sequel to The Goonies has been discussed at various points for the last three decades, but the reason that it has not happened yet is that nobody involved (whether it is Richard Donner or the cast) have managed to find an idea for a sequel that lives up to the original. Whether or not a take on Goonies 2 that captures that particular "Amblin spirit" will ever be discovered remains to be seen, but until then, we still have these excellent deep cut references to hold us over.
We will have to keep our fingers firmly crossed to see whether or not the Jurassic universe will continue to pay homage to other classic adventure movies like The Goonies. With Jurassic World: Fallen Kingdom set to hit theaters next summer on June 22, 2018, we now have less than a year until we find out for sure.
Originally from Connecticut, Conner grew up in San Diego and graduated from Chapman University in 2014. He now lives in Los Angeles working in and around the entertainment industry and can mostly be found binging horror movies and chugging coffee.
Your Daily Blend of Entertainment News
Thank you for signing up to CinemaBlend. You will receive a verification email shortly.
There was a problem. Please refresh the page and try again.