Here's How The Goonies Plans To Celebrate Its 30th Anniversary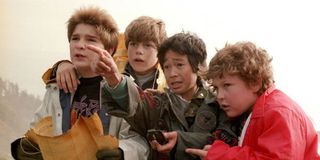 This year marks the 30th anniversary the cult classic adventure comedy, The Goonies and what better way to celebrate then to head out to the Goon Docks with a bunch of fellow fans. Get ready for fun, festivities and even a couple special appearances as the iconic town which once hosted the production of the classic 1985 flick celebrates its success.
Fans from across the world will come together later this week in the seaside town of Astoria, Oregon for a special Goonies-style festival. According to The Goondocks website, the celebration will give fans a chance to relive some of the best moments from the cult classic film. The four day event running from June 4-7 will include a Goon Docks tour of the iconic film locations, bowling at "Chunk's Bowling Alley", costumed quote-a-long film screenings, plenty of Truffle Shuffle Stout at the local Fort George Brewery and an adventure-filled scavenger hunt. But, best of all, there will be a special appearance from none other than Chunk. Jeff Cohen, the actor who portrayed the overweight klutz , doesn't quite look like this anymore.
No, nowadays, Chunk (Jeff Cohen) is quite the hunk, as puberty certainly treated him well. Though it's been many years since Cohen was out searching for Pirate Treasure, the now entertainment lawyer will be gracing fans with his presence with a panel entitled "Growing Up Goonie" as well as autograph signings.
There are sure to be even more events for fans to take part in, as the whole town excitedly takes part in the festivities. In addition, there will be LEGO recreations of iconic scenes from the film on display and a makeshift pirate ship that will offer tours and sails in Astoria during the celebration.
And even if you want to tag along, but aren't as intense of a Goonies fan, there are events for everyone, particularly those who just want to relive 80s culture. A new addition to Goonies Day Celebration includes an 80s Con, a trade show where enthusiasts of the decade can find unique mementos and nostalgic items.
There are a number of ticketed events, which you can buy here, otherwise, many of The Goonies-inspired activities are open to the public. If nothing else, it sounds like a fun weekend to relive a classic adventure, and pretend like we're in the 80s once again, especially since the hope for a sequel is pretty much lost.
Your Daily Blend of Entertainment News