Watch Batman Fight Jack The Ripper In First Gotham By Gaslight Trailer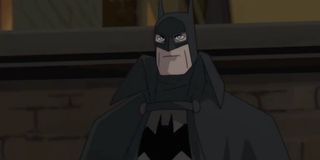 There have been various incarnations of Batman over the years, but the Caped Crusader seen in Gotham By Gaslight remains one of the most wholly unique versions of the hero. The Victorian take on Bruce Wayne has captured audience imaginations for years, and he is finally going to get the animated treatment that we have been waiting for next year. On that note, a trailer for Batman: Gotham By Gaslight has officially debuted, and it features some excellent scenes of 19th Century Bats facing off against Jack the Ripper. Check it out below.
In many ways, that trailer plays out like a traditional Batman story, but with an interesting visual twist. In Batman: Gotham By Gaslight, we catch up with a more low-tech (relatively speaking) version of Batman, who stalks the streets gripped with terror by the reign of a madman who has been killing women. Along the way, we're introduced to a variety of bizarre takes on Batman characters (such as Gordon, Alfred, and Selina Kyle), and the whole thing plays out just as much like a gothic horror story as a full-blown superhero story.
Right off the bat (pun intended), it's clear that this take on Batman takes a few liberties with the character. From a visual standpoint, his suit isn't nearly as advanced as the type of outfit worn in most Batman stories, and we also can see his eyes when he wears the cape and cowl. Moreover, this version of Batman seems to rely less on gadgets (although he certainly has an arsenal of them), instead opting for a more cerebral and detective-driven approach to fighting crime on the streets of Gotham
Despite all of the changes, it is actually quite astonishing to see how easily Batman translates into the Victorian Era. The character's DNA is firmly rooted in the work of Sir Arthur Conan Doyle and the world of Sherlock Holmes, so transplanting him into that era and sending him up against one of history's most notorious killers actually works incredibly well.
Animated DC films have generally adapted traditional Batman stories in recent years, but the success of something like Gotham By Gaslight could go a long way towards bringing Elseworlds tales into the mainstream. Free from traditional DC continuity, these stories take massive liberties with their respective characters and typically don't tie into a greater overarching narrative. There have been rumors of Elseworlds stories (such as Superman: Red Son) making their way to the big screen in recent months, and introducing audiences to Gotham By Gaslight could be a perfect primer to further sell fans on the concept of non-DCEU films.
Batman: Gotham By Gaslight will premiere on Blu-ray and Digital HD next year. On the big screen, The Dark Knight will make his next appearance next weekend when Justice League finally premieres. Make sure to get your tickets (opens in new tab) for the highly-anticipated blockbuster now and check out our handy Justice League guide to keep up with everything that we know about the film.
Originally from Connecticut, Conner grew up in San Diego and graduated from Chapman University in 2014. He now lives in Los Angeles working in and around the entertainment industry and can mostly be found binging horror movies and chugging coffee.
Your Daily Blend of Entertainment News
Thank you for signing up to CinemaBlend. You will receive a verification email shortly.
There was a problem. Please refresh the page and try again.