Best Friend From Heaven Is Easily The Weirdest Trailer We've Seen In Years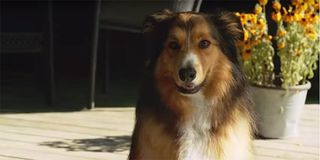 It is a safe bet that when you see a live action film where the dog is a main character, you are in for some heartache. Turner & Hooch taught a hard lesson, but it taught it well. That dog is a goner, it's inevitable, but it's not usually revealed in the marketing for the movie. But for one upcoming movie, that is where the story begins. There have been countless dog films made over the years, from kids movies to comedies to dramas, but this is something else entirely. The trailer for Best Friend From Heaven is just so bizarre. I could try and explain what you are about to see, but unfortunately no one can be told what Best Friend From Heaven is. You have to see it for yourself, so take a look below.
Is this what going insane feels like? I can't tell if I'm being trolled or not. Is this real? I mean it has an IMDB page, so I guess this is real, but come on, really? There are so many questions. Here's what we know: according to IMDB, the film has/had the nebulous release date of 'April 2017' in Canada. It was directed by Justin G. Dyck and features the voice of Kris Kristofferson (a paycheck's a paycheck), and that's about it. When breaking down the trailer, things seemed normal-ish until the dog gets hit by the car and then we see him in heaven. All dogs go there, after all. Then he started talking, and I nearly had a stroke. Clearly I was unprepared for this. Ok, let's pause for a sec, take a beat, readjust expectations and proceed with a clear mind.
So the dog, whose name is Gabriel (which isn't an over the top or completely ridiculous name for a dog), dies and comes back to resolve unfinished business: getting his owners married. First off, Gabe, it's a tiny bit your fault you ruined their wedding day by chasing that squirrel into the street, but not as much as it's your owners' fault for leaving the gate open. When Gabriel's spirit(?) returns to Earth to give his owners the wedding they deserve, he finds some poor unsuspecting guy just walking down the street in a plaid shirt and conscripts him to assist on this marital mission. I kept waiting for the other shoe to drop, for the jokes to come in and for this thing to turn into a fun, satirical sort of comedy, but it never happened. It's played straight the whole time. Incredible.
Now it is well intentioned and a nice idea of a community coming together to put on a wedding for a couple who have experienced loss. Honestly this movie doesn't really seem that different than something you would find on Lifetime or the Hallmark Channel. But the choice to use real dogs and have their mouths move is an inspired one. You could have used CGI animals (let's pretend the budget was unlimited) or have gone the Homeward Bound: The Incredible Journey route and used a voiceover of the animals talking without any change in their facial features. Nope, they went all in. Bravo.
Best Friend From Heaven has no U.S. theatrical release date, or as far as I can tell any home media release. But it is out there people, so go find it. For all the latest trailers and cinematic absurdity, keep it locked to CinemaBlend and be sure to check out our upcoming release schedule.
Nick grew up in Maryland has degrees in Film Studies and Communications. His life goal is to walk the earth, meet people and get into adventures. He's also still looking for The Adventures of Pete and Pete season 3 on DVD if anyone has a lead.
Your Daily Blend of Entertainment News
Thank you for signing up to CinemaBlend. You will receive a verification email shortly.
There was a problem. Please refresh the page and try again.