What Daisy Ridley Wishes Her Lightsaber Looked Like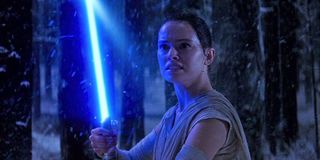 The Star Wars universe has introduced us to a lot of different lightsabers over the years. We've been privy to different colors and different shapes with lightsabers, but as it turns out, if Daisy Ridley could have her way, the lightsaber she uses in the new trilogy would look a lot different. In fact, not only would she want a different color, she recently revealed she would like to incorporate a different component to the lightsaber, as well. According to the Star Wars: The Last Jedi actress:
You heard the lady. Although Daisy Ridley is being cheeky through most of the interview with Elle UK, she does declare she would prefer her lightsaber to be pink and glittery. This is similar to Carrie Fisher, who once said that she'd like a purple lightsaber. While Rey isn't the most girly-girl character in the history of movies, a pink lightsaber could still be totally fun. Currently, Rey does have a lightsaber in her possession, but it's the one she encountered while spending time with Maz Kanata in her bar on Takodana. That lightsaber was originally constructed by Anakin Skywalker and had changed hands previously, going to Luke Skywalker and then Rey.
Star Wars: The Last Jedi has done a really good job of hiding most of its secrets, and this interview is no exception. It's mostly the actress talking about things like being allergic to John Boyega's cat, with a few gems like the lightsaber quote, above. Oh, and did we mention she's putting together a Millennium Falcon LEGO set while talking about the movie? She's fairly decent about multitasking, as it only takes her five minutes to put together the set! (Just kidding, they give her an already-made one at the end.) Take a look.
Back to the pink lightsaber, though. Considering that lightsabers are made of plasma blades powered by Kyber crystals, I'm not sure where the glitter would fit in, but we have seen a variety of different-colored lightsabers in the Star Wars universe, including red, blue, green, white, red, etc. Pink is a fairly close shade to red, but we haven't seen it so far, and we won't be seeing it in Star Wars: the Last Jedi, either. We've already seen Rey brandishing the blue lightsaber while she trains with Luke on the island following the events in The Force Awakens. We know this because the scenes have been all over the trailers and early footage for the movie. A pink lightsaber would definitely not have escaped notice, especially if there was glitter involved in the handle or whatever.
If you are just happy to see Rey back in action again, you won't have too much longer to wait. Star Wars: The Last Jedi hits theaters on December 15. In addition, you can already pre-order tickets (opens in new tab) for the upcoming movie, or take a look at what we already know about the flick.
Your Daily Blend of Entertainment News
Reality TV fan with a pinch of Disney fairy dust thrown in. Theme park junkie. If you've created a rom-com I've probably watched it.