J.J. Abrams Has Heard Your Star Wars Lightsaber Complaints, Had This To Say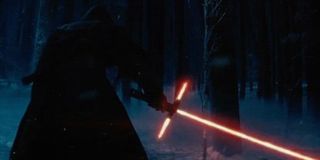 There has been tons of discussion over Star Wars: The Force Awakens since the teaser trailer dropped back in November of last year. But of all the talk, the one thing that seems to keep coming up is the topic of the new and "improved?" lightsaber. Well, it appears fans and critics have finally whispered, shouted, laughed, cried and punched things enough to bring director J.J. Abrams to the point of comment.
We've all seen the ridiculous crossguard lightsaber (seen above) and God knows we've all had something to say about it. While we're pretty sure kids who weren't really attached to the early films will dig it (I mean, why wouldn't they), we fans of the original George Lucas films have had much to complain about. So much so, that Abrams has now shared his thoughts on the subject. This is what the writer/director of the upcoming film had to say about it in a recent interview with Collider.
You would think if they had a "number of conversations" they would have realized how dangerous (and ludicrous) the concept of having a cross beam at the base of the lightsaber was but apparently not. What exactly was it that they discussed in these conversations? I'm guessing they probably weren't as interested in finding a practical upgrade to the energy weapon as they were in giving it a deceivingly "killer mod." Regardless of their motives, it seems Abrams, who in the remainder of the interview chalks it up as nothing but good fun, isn't all that worried about longterm backlash.
In case you haven't been following the full extent of the upgraded crossguard lightsaber conversation, there have been a whirlwind of jokes, mocks and spoofs since its unveiling. Some of the funnier creations to come out of the whole fiasco are its endless series of memes, which have turned the lightsaber of the future into an almost-Christmas-like decorative artifact, flavoring it with an added dozen or so crossbeams. Funny or Die also pushed a great spoof of Lucas and Anakin Skywalker viewing the now infamous lightsaber reveal for the very first time. Priceless!
Star Wars: The Force Awakens opens in theaters on Dec. 18. In the meantime, click here for instructions on making your very own three-pronged crossguard lightsaber. Just watch your hands.
Your Daily Blend of Entertainment News
Thank you for signing up to CinemaBlend. You will receive a verification email shortly.
There was a problem. Please refresh the page and try again.