6 Funniest Moments In Star Wars: The Last Jedi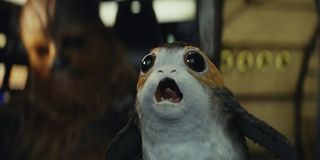 Just like The Empire Strikes Back did in 1980, The Last Jedi ratcheted up the darkness for the Star Wars franchise. While The Force Awakens certainly had a fair amount of somber moments, The Last Jedi is several steps ahead of its predecessor in that department. Feeling closer in tone to the war-heavy Rogue One, The Last Jedi put its protagonists through the ringer, leaving us wondering how they'll bounce back for Episode IX. But this movie didn't offer only doom and gloom; there were some humor mixed in to keep things lively. With that in mind, we've gone through and picked out the funniest moments from The Last Jedi. Feel free to also mention any moments you found amusing in the comments section.
Warning: full SPOILERS for Star Wars: The Last Jedi are ahead!
Holding For Hux
The Resistance may have destroyed Starkiller Base at the end of The Force Awakens, but that victory was short-lived, as the First Order soon came to retaliate in full force. So during the evacuation, it was ballsy enough that Poe Dameron flew in his spruced-up X-Wing to take on a Dreadnought warship on his own while his Resistance allies were hightailing it out of there. But on top of that, he also decided to screw around with General Hux, the most intense of all the First Order officers other than Kylo Ren. Hux was already planning to kill Poe, but once you pretend to still be on hold for the general and then make a crack about his mother, then your demise is prioritized. Thankfully, Poe is an excellent pilot, so he made it out of that assault in one piece, leaving him free to relish his gag.
Finn's Awakening
When we left off with Poe in The Force Awakens, he was still unconscious after being severely injured by Kylo Ren. Fortunately, thanks to a batch suit laying around, his injuries healed more quickly. Unfortunately, Finn woke up while he was was still inside that pod, and even after freeing himself from its confines, he had to deal with leaking batch fluid all over the cruiser floor. We certainly feel for Finn awakening in a strange environment wearing that massive suit and confused about where Rey is, but we also feel for the janitor who had to clean up his mess. Although considering that the ship was destroyed soon after, I guess it didn't really matter.
The Porgs Watching Chewbacca
Ever since their existence was revealed at Star Wars Celebration, Porgs have been deemed one of the cutest creatures in a galaxy far, far away. However, there was another question posed about them by some of the more dark-minded Star Wars fans: do they double as food? More specifically, would we see Chewbacca eating one of them while on Ahch-To? Well, that almost happened, as while Rey was trying to establish a rapport with Luke Skywalker, Chewbacca hung out near the Millennium Falcon and was about to chow down on Porg meat. What the Wookie didn't count on was an audience of Porgs watching him about to chew on one of their brethren, with one of them looking particularly disturbed. We never see if Chewie decides to still dine on this particular meal, and we're also left wondering if the Porgs taste just like chicken.
Rey "Feeling" The Force
Luke Skywalker initially refused to help Rey because he didn't want to repeat what happened with Ben Solo, he later changed his mind after some prodding from R2-D2. For their first lesson, Luke had Rey sit down and asked her what she knew about the Force. Soon realizing that her understanding of the mystical energy surrounding all living things was wrong, he instructed her to close her eyes reach out to feel the Force. Taking her new master too literally, Rey actually reached out with her arm, and a visibly annoyed Luke decided to screw with her for a few seconds by touching her hand with a leaf blade before then smacking her with it. When it comes to learning about the Force, Rey, sometimes you shouldn't take things so literally.
Rey Destroying The Caretaker's Cart
Rey spent years on Jakku becoming adept at using her staff for combat, but she barely has any experience with a lightsaber. Sure, she held her own against Kylo Ren in The Force Awakens, but too much practice never hurt anyone. Well, it should be clarified that it doesn't hurt the person training. But as Rey showed when she sliced through that rock pillar, she needs to pay attention on what's underneath the cliff, because the rock proceeded to destroy the cart that one of the Caretakers was pushing along. The Caretakers already weren't fond of Rey when she arrived, but now they definitely don't like her. Luckily for them, with Luke gone and Rey hiding out with the remaining Resistance members, they presumably don't have to worry about her coming back to Ahch-To.
BB-8 And The Canto Bight Gambler
We know that BB-8 is a valued member of The Resistance, but if you've never met the droid and ran into him in a casino after having a few too many drinks, evidently you might think he's some kind of slot machine. That's what happened when BB-8 ran into a finely-dressed goblin-like creature while visiting Canto Bight with Finn and Rose Tico. This sloshed creature stuck as many coins as he could into the droid to see if he would pay out, but alas, BB-8 isn't that kind of machine. While BB-8 was clearly irritated at how he was being treated, those coins came in handy later when he fired them as projectiles at the Canto Bight security personnel.
Connoisseur of Marvel, DC, Star Wars, John Wick, MonsterVerse and Doctor Who lore. He's aware he looks like Harry Potter and Clark Kent.
Your Daily Blend of Entertainment News
Thank you for signing up to CinemaBlend. You will receive a verification email shortly.
There was a problem. Please refresh the page and try again.