The 10 Best Movies Of 2017, According To Eric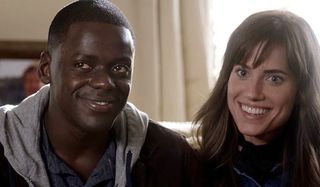 As someone who saw more than 100 new releases in 2017, I look back incredibly fondly on the last 12 months at the cinema. While my tastes tend to be a bit all over the place, and there certainly were more than a handful of disappointments, I was elated to find the year stocked with brilliant entries from some of my favorite auteurs, breakthroughs from some seriously talented filmmakers, and even an impressive stock of impressive and creative comic book blockbusters. In the past few weeks I've been excited to reflect on the number of wonderful treats the big screen had to offer in 2017, though ultimately faced with some seriously hard choices determining my personal Top 10.
Having spent 2017 constantly on the hunt for the best material that the medium had to offer, I'm now proud to reveal what I felt were the best movies released this year. My criteria are rather simple, weighing both quality and rewatchability into my final decisions, and both factored into every choice I've made. So let's get this show on the road!
10. IT
For the bulk of the time leading up to the release date, I dreaded the arrival of Andres Muschietti's IT. Reports about studio interference behind the scenes driving away writer/director Cary Fukunaga had me seriously concerned, and recognizing the immense potential in a big screen adaptation of Stephen King's epic, I was prepared to be disappointed. The reason why the film is on my Top 10, however, is because I left the theater the exact opposite of disappointed. As soon as the credits rolled I realized I had witnessed the birth of a new modern horror classic, and I couldn't shake it from my brain for weeks.
It's amazing just how many smart decisions are made with the property, both big and small. Updating the story to be set in the 1980s was a perfect call, with the narrative having the chance to hit all the appropriate Amblin nostalgia buttons; but then there's just the stunning design of Pennywise, turning Bill Skarsgard into a truly terrifying vision. It's going to be a sincere challenge for the forthcoming sequel to live up to what was accomplished here, but unlike this film, I anticipate it with the highest hopes, rather than the lowest.
Read my full review here.
9. The Post
The Post is one of those movies that you can tell is going to be a success based on a one sentence description. After all, what we're talking about here is a Steven Spielberg-directed historical drama starring Meryl Streep and Tom Hanks chronicling one of the most important moments in our nation's history. The whole thing is such a slam dunk that it's almost hard not to get cynical about it. The reality, however, is that it's an extraordinary work that is arriving at the exact right time.
Journalism is designed to bring truth to power, and shine a bright light on injustice in the face of obstruction, and that ideal is the blood pumping through the veins of The Post. Set in the 1960s when the press got their hands on a classified study known as the Pentagon Papers, it wonderfully portrays a genuine moment in history when authority and influence were unable to sway morality, and it's a message dearly needed after the year that was 2017. It's brought to life with a phenomenal ensemble, and will go down as one of Steven Spielberg's greatest (which any cinephile will tell you is saying a lot).
8. Colossal
Modern Kaiju features are typically made within the studio system, because it generally requires a sizable budget in order to make any monster not look completely ridiculous by current standards. Nacho Vigalondo's Colossal stands out as an amazing exception to this rule. It helps that it's a monster movie that keeps all of the monster action on the other side of the world from the protagonists, but more importantly it's because the film has a wonderful, creative vision that inspires the best from its talented cast.
Putting in her best work since her Oscar-winning turn in Les Miserables, Anne Hathaway is surprising and fantastic as Gloria -- an alcoholic who finds herself moving back to her hometown after being dumped by her boyfriend (Dan Stevens). She has a hard time breaking some of her worst patterns, but things start to really change when she discovers that her bender antics are directly correlating with a giant monster invading Seoul, South Korea. It's a film that manages to be weird and fun in equal measure, but easily its biggest surprise is Jason Sudeikis, who puts on a typecast-breaking performance that adds some shocking drama to the mix.
Read my full review here.
7. The Shape Of Water
Guillermo del Toro is a filmmaker who consistently carries a long list of in-development projects, but The Shape of Water feels like it kind of came out of nowhere. It's an odd little auteur fairy tale about the love between a mute custodian (Sally Hawkins) and a strange aquatic monster (Doug Jones), but it's a movie that is spectacularly disarming and romantic. It's really unlike anything you've ever seen before, and late in the game has emerged as one of 2017's must-see films.
Sally Hawkins delivers what is legitimately an Oscar-worthy performance, never uttering a single line, and effuses a remarkable sweetness and loveliness not found in any other film this year. It certainly helps that Guillermo del Toro also surrounds her with the sweetest collection of co-stars as well, with Octavia Spencer, Richard Jenkins and Michael Stuhlbarg delivering big in key supporting roles. The Shape of Water is the writer/director's best film since Pan's Labyrinth, and easily one of the best works of his career.
6. Get Out
I'm a person who loves rewatching a great movie as much as I enjoy discovering an amazing new one. A truly talented filmmaker brings extra layers to every scene that he or she orchestrates, and it takes multiple viewings to fully realize that kind of detail. As it turns out, Jordan Peele is a writer/director very much in tune with this approach to film appreciation, and with his debut behind the camera has unleashed a monument to it. Get Out is a genius, masterful work that only gets better and better each time that you watch it, and not solely because of the biting and disturbingly relevant social commentary it advances.
Get Out is a super tiny movie (budgeted at $4.5 million), and it's not often one of the best of the year comes out in February, but it's such a remarkable film that we are talking about it as much now as we were 10 months ago. Daniel Kaluuya puts on a star-making performance, and he is joined by the amazing talents of Allison Williams, Bradley Whitford, Catherine Keener, Caleb Landry Jones, Lakeith Stanfield, and the hilarious LilRel Howery. It's one of the most stunning directorial debuts in recent memory, and a film audiences will be watching and rewatching for decades.
5. Detroit
Following The Hurt Locker and Zero Dark Thirty, Kathryn Bigelow has firmly established herself as a filmmaker who can fully capture the intensity of a warzone -- and that's basically what the job required making Detroit. Based on true events that occurred during the 1967 riots, the story dials the tension up to 11 and leaves it there for the bulk of the film, to the point where you're leaving fingernail imprints in the sidearms of your chair. It's an insanely gripping, powerful story, and while it was released theatrically during the wrong season (it got totally overlooked in August), it deserves to be recognized as one of the best movies of 2017.
A first act setup establishes the greater context for the story, but Detroit then quickly sets up camp at the notorious Algiers Motel, and unleashes a dramatic, and ceaselessly nerve-wracking showdown between a collection of racist cops and young people just trying to have a normal, fun night. It not only sheds light on a true and serious case of incredible injustice, but also painfully makes you reflect on just how little has changed in the decades since it all actually happened.
Read my full review here.
4. War On Everyone
Some of the movies mentioned on my list tip a bit more towards the obscure side, but I'm willing to bet this is one that more people are particularly unaware of. This is because it first debuted at the 2016 SXSW Film Festival, and only got a tiny release in the early months of this year. I, however, refuse to let it be forgotten, as John Michael McDonagh's War On Everyone is a movie that far too many people are totally sleeping on.
Hitting my buttons as a fan of Quentin Tarantino and Shane Black (not to mention John Michael McDonagh himself), War On Everyone is a New Mexico-set dark comedy about a pair of ruthlessly corrupt police officers hunting down a British crime lord. As the title suggests, it's a movie that is out to offend basically everybody on the planet, but its forgiveness is earned by it being utterly hilarious. Alexander Skarsgard and Michael Pena make for a phenomenal, brilliant duo as the film's co-leads, and adding to the fun are some fantastic turns from Tessa Thompson, Malcolm Barrett, Caleb Landry Jones, Paul Reiser and Theo James. I'll be sharing this one with anybody willing to watch for the foreseeable future, and that starts with all of you reading this.
Read my full review here.
3. The Disaster Artist
If you've seen The Room, you immediately understand why The Disaster Artist is a story that needed to be told. The 2003 cult film is a true masterpiece of awful, driven by the enigmatic mind of writer/director/weirdo Tommy Wiseau, and there are many choices made that leave you wondering if it was created by a person who had ever actually seen a movie before. James Franco's film exists to try and answer those kinds of questions, and what results is not just the funniest comedy of the year, but also a surprisingly heartfelt tale about friendship and creative spirit.
The Disaster Artist is not only a breakthrough for James Franco as a director, but it's also a venue for arguably the greatest performance of his career. His role as Tommy Wiseau is utterly transformative, necessarily over the top as it may be, but he also makes for a great foil for his brother Dave Franco, playing Wiseau's The Room co-star and chief collaborator Greg Sestero. Like the terrible movie that inspired it, it's a wonderful experience to watch with a crowd (not only because of the endless string of surprise celebrity cameos), and with any luck it will spark a midnight double feature that film fans will watch for years to come.
Read my full review here.
2. Baby Driver
Editing has long been a key factor in writer/director Edgar Wright's success as a filmmaker. He not only regularly finds immensely creative ways to move from scene-to-scene, but he uses his cuts to tell stories within stories -- sometimes subtly telling the audience exactly what to expect without you even knowing it. It's been a hallmark in all four of his movies to date, but there are few features that utilize the craft quite like the music-driven Baby Driver.
The original concept behind the film was to have a heist plot set to a continuous soundtrack spelling out the beats of the action, but even knowing that going in doesn't make it any less mind-blowing to watch. It hooks you in right from the start with its intense opening chase set to "Bellbottoms" by The Jon Spencer Blues Explosion, but ceases to let your heart stop pounding and/or your foot stop tapping from that point forward. Before now, Edgar Wright movies have had a bit of trouble finding an audience here in the United States, but after the success of Baby Driver hopefully there are a lot more people with their eyes open to his remarkable talent.
Read my full review here.
1. Blade Runner 2049
Denis Villeneuve has quickly become one of my favorite working directors. He first landed a film on one of my Top 10 lists back in 2013 with his stunning thriller Prisoners, and repeated the feat last year with the jaw-dropping sci-fi drama Arrival. I loved both of those movies, and after watching them found myself immensely excited for what the future would hold for the director. As it turns out, I couldn't possibly be more satisfied that the most immediate answer to that question. Blade Runner 2049, a project that once appeared to solely be a cash grab sequel, is a brilliant piece of art, and a film so amazing that it will go down as one of the greatest science-fiction stories ever played in a movie theater.
Blending two of my favorite genres, sci-fi and film noir, the original Blade Runner has always had a special place in my heart, but there is a strong argument to be made that Blade Runner 2049 will ultimately be recognized as the superior movie. Roger Deakins' cinematography is literally jaw-dropping (it's a dire shame more people didn't experience it on the big screen), and it's stunningly committed to its storytelling style -- weaving a fascinating and beautifully thematic mystery to be solved by the detective protagonist, K (Ryan Gosling). It's a follow-up that's perfectly connected to its predecessor while also remaining effectively independent, and serves to deepen the intense and beautiful world that we were introduced to 35 years ago. It's a true cinematic wonder, and he best film of 2017.
Read my full review here.
The Runner-Ups: Three Billboards Outside Ebbing, Missouri, War For The Planet Of The Apes, Wind River, Lady Bird, Darkest Hour, Star Wars: The Last Jedi, and John Wick: Chapter 2
Your Daily Blend of Entertainment News
Assistant Managing Editor
NJ native who calls LA home and lives in a Dreamatorium. A decade-plus CinemaBlend veteran who is endlessly enthusiastic about the career he's dreamt of since seventh grade.