John Mayer Has A Wild Batman Theory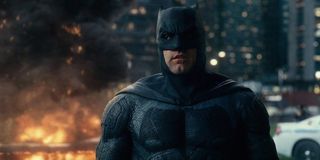 The Batman superhero template has become one of the most popular origin story models in the realm of pop culture. Even today, from the tragic background to the wealth and the secret lair, Ben Affleck's brooding superhero remains a fixture in the comic book movie genre. However, there's another Affleck film that also meets those characteristics. In fact, the Batman model has become so well-known and well-worn that musician John Mayer recently took to social media to theorize that Ben Affleck's 2016 thriller The Accountant actually fits the definition of a Batman movie. Mayer wrote:
Broken down to its most basic elements, the Batman formula and The Accountant do share quite a bit of DNA. Like Bruce Wayne, Christian Wolff (the titular autistic accountant from Gavin O'Connor's film) is a highly-trained badass with a tragic backstory, a vast pool of wealth to finance his ass-kicking activities and even secret bases (storage space and an RV) from which he conducts his operations. By John Mayer's estimation, if we can consider Die Hard a Christmas movie, then The Accountant easily meets the requirements to be classified as a Batman movie.
Mayer also goes on to refer to Christian Wolff's brother (played by The Punisher's Jon Bernthal in The Accountant), saying that he will become Christian's arch-nemesis. Though it's not a perfect 1:1 comparison to the Batman mythos, this could potentially be a reference to Lincoln March (Batman's long lost brother) from The Court of Owls storyline, or Tommy Elliot (Bruce Wayne's childhood best friend) from the Batman: Hush storyline.
This comparison could potentially provide a certain degree of approval for Ben Affleck in his current role as Batman. In fact, when pressed by fans about whether or not his tweet served as an approval for Affleck's Batman, John Mayer responded in the affirmative and made sure to note that he's a fan of Batfleck.
The parallels between The Accountant and the Batman mythos could go a long way towards easing fan concerns over the possibility of not getting a Ben Affleck-fronted Batman solo movie. Although the actor remains cast in the role, recent reports have suggested that Affleck is currently looking for a way to "segue out" of his time as the Caped Crusader. If this means a potential recasting situation is on the horizon for Matt Reeves' Batman movie, then we can at least take solace knowing that Ben Affleck's turn as Christian Wolff offered an unorthodox (though not canon) Batman film. With all of that said, I have to admit: I kind of want to see what Christian Wolff could do as a member of a DC superhero team alongside Henry Cavill's Superman and Gal Gadot's Wonder Woman.
As for the real silver screen Caped Crusader, you can catch Ben Affleck in his role as Bruce Wayne/Batman in Zack Snyder's Justice League, which is still in theaters.
This poll is no longer available.
Originally from Connecticut, Conner grew up in San Diego and graduated from Chapman University in 2014. He now lives in Los Angeles working in and around the entertainment industry and can mostly be found binging horror movies and chugging coffee.
Your Daily Blend of Entertainment News
Thank you for signing up to CinemaBlend. You will receive a verification email shortly.
There was a problem. Please refresh the page and try again.