5 Reasons Ben Affleck's Solo Batman Movie Needs To Use The Hush Story Arc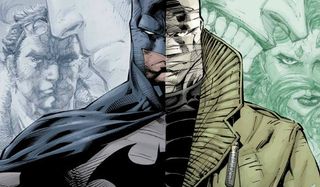 Say what you will about the current shaky ground of the DCEU, the future still looks bright for the members of the Justice League. The one Justice League member who has us particularly excited is also arguably the most popular: The Dark Knight. Ben Affleck's solo Batman movie has slowly but surely started to take shape, with recent developments stating that Red Hood will not make an appearance, and that the film will feature a large number of villains.
With that in mind, we think this is a perfect time for DC to finally adapt the modern classic Batman storyline, Hush. A personal battle between Bruce Wayne and his childhood friend Tommy Elliot, Hush was written by Jeph Loeb and blew audiences away when it hit shelves back in 2003. In the years since its release, it has become a quintessential Batman read, and more than worthy of the silver screen treatment. We've opened up the pages of the legendary comic book and come up with five distinct reasons why Ben Affleck should seriously consider using Hush when the time comes to make his solo Batman film.
The Central Villain Has Never Been Used Before
One of the things that made Batman Begins such a revolutionary take on the Batman lore back in 2005 was its willingness to explore corners of the Dark Knight's mythos unknown to members of the mainstream audience. A character like Hush has similarly never been seen before on the silver screen, so audiences would enter the theater with little to no expectations for what could go down. Putting someone like Joker or Scarecrow on the center stage would instantly lead to comparisons of what had come before, but a personal showdown between Bruce Wayne and Tommy Elliot would feel incredibly distinct. If Ben Affleck wants to make a statement and set himself apart from what other Bat-directors have done before, then he should strongly consider using an iconic villain with absolutely no history in the movies.
It Humanizes Bruce Wayne
All of Batman's stories carry some sort of personal implication for the hero; each and every one of his villains represents a dark reflection of his own nighttime persona. However, Hush sets itself apart because it isn't about Batman vs. Hush at its core, it's about Bruce Wayne vs. Tommy Elliot. Hush is a story about love and trust, with each chapter of the narrative focusing on a particular relationship in Bruce Wayne's life. Sure, Hush is full of action and flamboyant set pieces, but it's ultimately an examination of the man beneath that pointy-eared cowl, and what goes on in his mind. After all of the stoic brooding that we saw in Dawn of Justice, it might be time to see Bruce Wayne in a more emotionally vulnerable state.
It Exists Firmly Within The Greater DC Universe
It's the question that has burned in the minds of superhero fans ever since the advent of the shared cinematic universe: why doesn't the hero call (insert name of ally here) to help. Batman: Hush's narrative takes a different approach by actually giving Batman the opportunity to cross paths with characters that exist outside of Gotham's city limits. By encountering characters like Lex Luthor, Perry White, and Lois Lane, Hush establishes that Batman exists in a world populated by characters outside his own mythos. Additionally, flashbacks of Bruce and Tommy Elliot during the events of Hush hint at a long history of super heroics in the DC universe – complete with an appearance by Golden Age Green Lantern Alan Scott. This sort of quick cameo could go a long way towards establishing the mythology of the DCEU, not unlike how Hank Pym's flashbacks informed the history of the Marvel Cinematic Universe in Ant-Man.
It Balances A Bunch Of Villains
Although Hush, a.k.a Tommy Elliot, is the overarching villain of this particular story arc, the narrative is essentially a "who's who" of Batman rogues. From Joker, to Riddler, to Killer Croc, Hush has a gauntlet of various fights with iconic foes of the Dark Knight. Each encounter is perfectly balanced, portrays the distinct nature of that particular relationship with the Caped Crusader, and allows the villains to share equal portion of the storyline with one another. This last bit is important because it means that an adaptation of Hush would likely not fall into the dreaded Spider-Man 3 category of carrying the burden of too many villains.
It Introduces The Bat Family
How many good guys are left? Well, if Ben Affleck opts to use Hush as the inspiration for his Batman movie, then probably quite a few. In the same way that Hush shows that Batman exists firmly within the DCU, it also does an impeccable job of providing a road map of Batman's own Bat Family. From Dick Grayson to Tim Drake to Selina Kyle, the book examines each of these relationships and frames them in a way that emphasizes how each of them plays a role in keeping Bruce Wayne's head on straight. There's also a portion of the book that deals with Batman's grief over the death of Jason Todd, meaning that even more seeds could potentially be planted for a future Red Hood storyline down the road.
Your Daily Blend of Entertainment News
Originally from Connecticut, Conner grew up in San Diego and graduated from Chapman University in 2014. He now lives in Los Angeles working in and around the entertainment industry and can mostly be found binging horror movies and chugging coffee.