11 Sci-Fi Movies You Should Be Excited For In 2018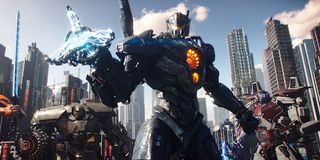 It's a new year, which means another 12 months of new movies. While you certainly won't find any shortage of superhero or horror movies in the 2018 lineup, science-fiction isn't taking a backseat either. 2017 saw some excellent films in the genre, from smaller flicks like Colossal and Life to gargantuan releases like Blade Runner 2049 and Star Wars: The Last Jedi. 2018 will have plenty to offer, and to help you make sense of it all, I've collected some of the films you're going to want to save in your calendar.
The beauty of sci-fi is that it comes in all shapes and sizes. While some films may focus entirely on making you think or using the genre to make a point, others are just want to entertain with sweet laser battles. I think sci-fi is at its best when it's trying to do both. While it remains to be seen how any of these movies will be received critically, based on what I do know, you'll at least need to check them out. Here are 11 sci-fi movies to look forward to in 2018, in no particular order.
God Particle
You might know this one better as the third movie in the Cloverfield anthology series. Indeed, it seems like the movie isn't even going by God Particle anymore. Little is known about the movie other than that it features a group of astronauts making a horrifying discovery aboard their space station. After 10 Cloverfield Lane, people are excited to see the latest movie in the series, but, unfortunately, it keeps getting pushed back; it's now expected to arrive in April (hopefully).
Annihilation
Based on the book of the same name by Jeff VanderMeer, Annihilation follows a biologist (Natalie Portman) who volunteers to venture into an "environmental disaster," to put it lightly. It's actually an anomaly where the laws of nature don't apply, resulting in some seriously trippy creatures and events. The logline is impressive enough, but a big draw is the fact that Annihilation is written and directed by Alex Garland, who was behind the phenomenal Ex Machina, as well as some other sci-fi gems. The man knows the genre, to put it bluntly.
Pacific Rim Uprising
Guillermo del Toro's big robots vs. monsters nerd-fest is under new management, but the sequel at least looks like it still as all the love that was devoted to the original. Pacific Rim Uprising is bigger, more colorful and looks to deliver lots of action by doubling the number of characters, jaegers and kaiju. Charm-factory John Boyega leads the sequel in what will hopefully be a franchise starter. The response to this movie thus far seems to be a bit muted but we'll see what happens as it gets closer to the release date.
The Predator
The Predator franchise isn't exactly known for its high-quality sequels, but this is the first one that's looked promising in a long time. Not a remake or a reboot, The Predator is written and directed by action guru Shane Black. Black actually had a supporting role in the original Predator, but was not involved with it creatively. Now years later, he's writing and directing a new movie that's set in suburbia with the classic storyline of a group of soldiers going up against a killer alien.
Replicas
Keanu Reeves' return to sci-fi is enough reason to pay mind to Replicas, especially once you consider what he did to the action genre not so long ago with John Wick. Replicas tells the story of a brilliant biologist (always with the biologists) who, desperate to revive his dead family, bends the laws of science, making himself an enemy of the state. If the title hasn't clued you in, it likely involves cloning and even robots. Replicas is directed by Jeffrey Nachmanoff from a screenplay by Chad St. John.
Mortal Engines
Peter Jackson and his Lord of the Rings writing team return for an all-new CGI-heavy adaptation of a popular book series. This time, it's Mortal Engines. Set in an apocalyptic, steampunk world, the last remnants of humanity live in giant motorized cities -- literally. They took London and they put wheels on it. The smaller towns are preyed upon by the bigger cities, and the story follows Hester Shaw, an assassin and fugitive who forges an unlikely alliance. The concept alone catches the eye, as there's not much else out there that can compete with fighting cities on wheels.
Captive State
So often we watch sci-fi movies that try to prevent a global alien invasion. Captive Space picks up a decade after the aliens have already won and taken over Earth. The film is set in a Chicago neighborhood and tells the story from both sides of the conflict. That's a fascinating (and refreshing) concept, and it doesn't hurt to have a nice cast and creative talent. Rupert Wyatt (Rise of the Planet of the Apes) directs the sci-fi movie, while Vera Farmiga and John Goodman star.
Solo: A Star Wars Story
Well of course I had to include a Star Wars movie, even if this particular Star Wars movie is something of a question mark. We can debate whether we needed an origin movie about Han Solo until the opening crawl passes, but we're getting one all the same, and it's proven itself to be a curiosity from a filmmaking perspective. The original directors were fired a few weeks before shooting was completed and Ron Howard stepped in to finish the job. As of this writing, we've yet to see a trailer or any official promotional material despite the release date in May. It'll very interesting to see what happens with this one.
Ready Player One
Have you ever wondered what it would be like to see Chun-Li and Lara Croft run across a battlefield together while a Gundam flies overhead and Chucky slits the throats of his enemies? Well, do we have a one in a million movie for you that is literally the nerdiest dream scenario possible. Steven Spielberg directs Ready Player One, based on the hit novel of the same name. Spielberg's involvement is a good sign for this movie, but one does worry about sheer easter egg overload when every shot is begging your eyes to look all over the place.
A Wrinkle In Time
Based on hit novel written by Madeleine L'Engle, A Wrinkle in Time follows a young girl who must rescue her father from a universe-spanning evil by teaming up with her intelligent younger brother, her classmate and three astral travelers. The film comes from Disney, which may already be an indicator of its box office destiny. But it's also directed by Ava DuVernay, with Oprah Winfrey, Reese Witherspoon, Mindy Kaling and Chris Pine starring. That's a lot of talent packed into one creative-looking movie, and the fan buzz on this has been high ever since the first trailer debuted.
Alita: Battle Angel
At long last, James Cameron's mission to bring Yukito Kishiro's Battle Angel Alita manga to the big screen is about to be released. Cameron has been interested in making this movie ever since he was first introduced to the manga by Guillermo del Toro. Robert Rodriguez directs with a screenplay written by Rodriguez, Cameron and Laeta Kalogridis. The story follows Alita, a cyborg heroine who embarks on a journey of self-discovery and becomes the target of powerful adversaries. Creepy anime eyes aside, the film appears to have style, and though there is plenty of reason to be cautious of Hollywood adaptations of anime or manga, Alita: Battle Angel is interesting enough that you should dedicate some attention to it.
Matt has lived in New Jersey his entire life, but commutes every day to New York City. He graduated from Rowan University and loves Marvel, Nintendo, and going on long hikes and then greatly wishing he was back indoors. Matt has been covering the entertainment industry for over two years and will fight to his dying breath that Hulk and Black Widow make a good couple.
Your Daily Blend of Entertainment News