17 Original Netflix Movies To Put On Your Calendar In 2018 And Beyond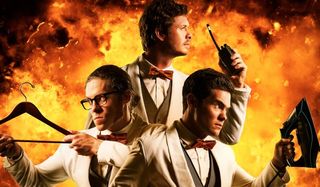 If you're a Netflix subscriber, or even just an admirer of the streaming platform's work ethic, you know how insane its drive to produce and acquire original material is. It's a passion that the content chief, Ted Sarandos, has made incredibly clear in recent remarks that stated at least 80 new films will be heading to Netflix's streaming library as exclusive originals. That's a hell of an order, but with some of the titles that are already slated for 2018 and beyond, it's not an impossible dream.
In fact, with the following 18 titles in mind, you're going to want to keep an eye out for what's on the horizon, especially since you'll be able to see some of these titles within the coming weeks. So open your calendar and prepare to mark down the following films for your entertainment pleasure.
Before I Wake
Mike Flanagan's Before I Wake is a perfect example of a movie that had an unusually hard time finding a platform for release. With its previous studio home delaying and eventually cancelling its release during its bankruptcy woes, the Kate Bosworth/Thomas Jane-starring film has been released pretty much everywhere except for in the U.S. But presumably around the time Flanagan made his deal to direct the Netflix adaptation of Gerald's Game, the streaming giant must have known they were the right home for this almost missing Mike Flanagan movie. So naturally, if there's a new Flanagan horror flick around the corner, we're going to want to see it.
Release Date: January 5th, 2018
The Polka King
When you put Jack Black in the sweet spot between comedy and tragedy, the man is a genius. He'd proven it previously in Richard Linklater's Bernie, and he looks like he's about to do it again with the Netflix Original The Polka King. Based on the true story of Jan Lewan, the polka king-turned-investment defrauder, the film looks like a dark comedy that borders on a sobering drama, as we see the deception progress from fruitful criminality to crippling failure before our eyes. Of course, we're also excited to see Black playing in the same sandbox as Jenny Slate, Jason Schwartzman and JB Smoove, too, so that's an added bonus to an already intriguing real life crime story.
Release Date: January 12th, 2018
Step Sisters
Much like Before I Wake before it, Step Sisters was supposed to make a big theatrical debut, only to find itself without a home once its distributor started to close up shop. But just like that previous film, Netflix came in and saved the day for this dance-centric comedy that takes place in the world of college step dancing. If you took the competitive nature of Bring It On, but crossed it with a film like Step Up or Stomp The Yard, you'd get what Step Sisters is looking to do to the landscape of Netflix originals. Though it also helps that one of the producers is a Netflix star themselves, as Master of None's Lena Waithe is a contributing force to the film's production.
Release Date: January 19th, 2018
The Open House
Selling a house can be brutal, but in the new Netflix movie The Open House, it's downright murder. Starring Dylan Minnette from Don't Breathe, the film focuses on a small, isolated town where the titular house resides and is currently for sale. But all it took was one open house to let in a dangerous presence that will terrorize Minnette's protagonist and his mother. This movie looks to be a slow burn thriller that leads to a rather intense finish, with an apparent conspiracy of some sorts taking place among some of the townspeople through the middle. So naturally, this is perfect for a day where you want to stay home and watch something uber creepy for a change.
Release Date: January 19th, 2018
A Futile and Stupid Gesture
The history of National Lampoon, and its creation in part thanks to Doug Kinney's comedic chops, was previously chronicled in the book titled A Futile and Stupid Gesture. Well, that book has been given the biopic treatment, with an all-star cast at director David Wain's disposal. Will Forte plays the period appropriate version of Kinney, with Martin Mull playing a "modern" version of the man, recalling this hilarious era in history. But if the formation of a classic comedy institution isn't enough for you to give this movie a look, then consider this: Joel McHale is playing the young version of former Community co-star Chevy Chase.
Release Date: January 26th, 2018
On Body and Soul
Every year, one film is selected by the various nations outside of the United States in hopes that it will be nominated for a Best Foreign Language Film Oscar. This year, Hungary has selected the film On Body and Soul, which showcases a budding relationship between two slaughterhouse workers who just happen to share the same recurring dream. A common problem with said Oscar category is that the picks are not usually given a lot of screening time with awards judges, meaning there's usually an early frontrunner when even one of them starts to make a noise. With this film set to hit Netflix not too long after the 90th Academy Awards nominees are announced, this move just might help Hungary's chances of winning, should their film be nominated.
Release Date: February 2nd, 2018
The Ritual
What happens when four friends accidentally get lost in the woods of Sweden? Well, if it's anything like the story featured in The Ritual, it's going to involve something rather vicious stalking them, ready to strike at a moment's notice. Acquired after its Midnight section premiere at the Toronto International Film Festival last year, director David Bruckner's cast of characters reunite on this trip to honor a dead friend, only to find themselves accidentally edging closer to their college classmate's fate. Based on the book of the same name by Adam Nevill, The Ritual already sounds like the sort of horror treat we'd expect find during a random Netflix scan.
Release Date: February 9th, 2018
Game Over, Man!
Die Hard is one of the pre-eminent action pictures that takes place during a high-rise hostage situation. So naturally, there's only one way you could even think of equalling that success: turn it into a comedy with the guys from Workaholics. Behold the core concept for Game Over, Man!, as Anders Holm, Jere Burns and Adam Devine play three dimwitted, but ready for action guys who plan to save former pop star Shaggy, and whoever else happens to be in the room with Shaggy, from a heinous terrorist plot that looks very similar to that of Hans Gruber and this thugs.
Release Date: March 23rd, 2018
Cargo
Zombie movies are still pretty trendy, so Cargo being attracted to Netflix's release platform is no surprise, as it's been pretty generous with horror through the past couple of years. However, the Australian feature-length adaptation of an impressive short stars Martin Freeman, and has a hell of a concept behind its title. Freeman plays a single father who has to save his baby during the zombie apocalypse, but there's a catch: he's infected and slowly turning into one of the undead himself. Not only does this sound thrilling, but if it's anything like the source material, we're going to need some tissues on hand for the finale.
Release Date: TBD 2018
Come Sunday
Religion is always a hot button issue, no matter how you slice it. But in the true case of Carlton Pearson, the subject of the drama Come Sunday, the conflict at hand comes from within. An influential pastor in Oklahoma, Pearson was labeled a heretic after he stated that he believed Hell did not exist. It's that period of Pearson's life that's on display in this film, starring Chiwetel Ejiofor as Carlton Pearson himself. Interestingly enough, Netflix is already set to distribute this film in advance of its Sundance Film Festival debut later this month.
Release Date: TBD 2018
Eggplant Emoji
One of the most memorable gags in Ben Stiller's decades long career in comedy has to be the "zipper scene" in There's Something About Mary. However, the protagonist in the Stiller-produced comedy Eggplant Emoji has it much worse off, as a certain part of the male anatomy has been detached from its owner, sparking a race against time to save their skin flute. Starring a young up-and-coming cast, Eggplant Emoji sounds like it's going to put Netflix's comedy muscle to the test, proving that no subject is too off-color for the same platform that brought us American Vandal and Bojack Horseman.
Release Date: TBD 2018
How It Ends
If Cargo hasn't satisfied your thirst for parenting at the end of the world, then How It Ends will be there to offer a second helping of action. Starring Theo James and Forest Whitaker, the film starts when an unspecified event makes road travel an absolute mess. With James as the father to an unborn child, and Whittaker as his father-in-law who he doesn't exactly see eye to eye with, the two will have to work together if they want to make it to Theo James' pregnant wife, played by Kat Graham. Tense family relations, a ticking clock, and a world in upheaval: it sounds like a good thriller is in the works.
Release Date: TBD 2018
Mute
Before Duncan Jones got caught up in the successful production of Warcraft, or even his modest follow-up to Moon, Source Code, there was Mute. A project that revolves around a silent protagonist, in the universe of his 2009 debut, the story follows Leo, a bartender in futuristic Berlin that's looking for his missing girlfriend. Of course, being as this is a future noir in the vein of Blade Runner, this journey is going to be more complicated, and involve more shady parties, than the logline implies. Alexander Skarsgard plays Leo, with Paul Rudd and Justin Theroux joining in as two rather shady parties that are somehow connected to the proceedings. We've been waiting a long time for this one, and thankfully, that wait looks to be almost over.
Release Date: TBD 2018
Set It Up
Judging by the story at the center of Netflix's rom-com Set It Up, it sounds like the movie that's usually lurking behind the movie we're all used to. Glen Powell and Zoey Deutch, who previously starred in Everybody Wants Some together, are the assistants to two powerful, but severely annoying, bosses who they want to get out of their lives. So the solution is pretty obvious: make the two bosses kiss! But while they try to set their employers down the path of romance, it sounds like the two of them end up falling for each other in the process.
Release Date: TBD 2018
The Other Side of the Wind
A couple of years ago, an unsuccessful Kickstarter campaign seemed to be the last ditch effort to complete Orson Welles' unfinished film The Other Side of the Wind. A Hollywood satire, the film had been known as one of the many projects the directorial magnate had left incomplete, with only a proper editing of the completed raw materials standing between it and release. Then Netflix stepped into the picture and played the hero, vowing not only to complete the film, but also to deliver it on its streaming platform. Now an obscure piece of film history is about to make a grand entrance, as this picture starring the likes of John Huston, Peter Bogdanovich and Dennis Hopper will finally have its day in the sun.
Release Date: TBD 2018
The Week Of
A lot of things can happen in one week, and The Week Of promises to throw everything and anything it can at one of the most interesting duos in comedic history: Adam Sandler and Chris Rock. The week in question leads up to the wedding between Sandler and Rock's kids, so naturally it's going to be one chaotic ride to the altar for these two dads. What's interesting is that this is the final film in Sandler's four picture deal with Netflix, so depending on how well this comedy flick does, you might be seeing a lot more of his work on the platform in the years to come.
Release Date: TBD 2018
Outlaw King
The wars of Scottish Independence may not be a subject of much popular interest, but after Netflix releases Outlaw King, we have a feeling there might be some folks looking into the finer points of Robert the Bruce's fight against the English military. Taking into account the events of the Battle of Loudoun Hill in 1307, the film stars Chris Pine as Robert, with Aaron Taylor-Johnson playing a loyal commander in Robert's ranks, James Douglas. The film has wrapped production, and is just waiting for a primed release date to tell the world its epic and bloody story.
Release Date: TBD
Your Daily Blend of Entertainment News
Senior Movies Contributor
CinemaBlend's James Bond (expert). Also versed in Large Scale Aggressors, time travel, and Guillermo del Toro. He fights for The User.