Why Three Billboards Deserved Its Surprising Golden Globes Win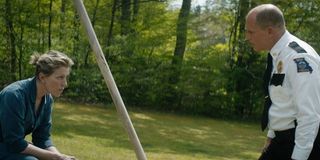 With the Golden Globes now in our rear view, it's time to look back on all of the films that walked away with gold this year. There were plenty of great winners, but one of the most satisfying victories of the night came for Martin McDonagh's Three Billboards Outside Ebbing, Missouri - which won the coveted Best Motion Picture, Drama trophy. It was a hotly-contested field, but Three Billboards absolutely deserved this win because it told the most decidedly full-bodied, human story of 2017.
It's worth mentioning that Three Billboards Outside Ebbing, Missouri surprised many by winning as big as it did. The film has generated a lot of buzz since its release, but it often felt as though films with a far more significant emphasis on technical filmmaking, like The Shape of Water and Dunkirk, generated more conversation and earned frontrunner status as awards season continued. However, for fans of no-frills pathos-driven storytelling, Three Billboards pulled off a remarkable upset.
One of the primary functions of a good film is its use of storytelling to say something about human nature and how we treat one another. This point feels hammered home by the fact that Three Billboards Outside Ebbing, Missouri won three other major, character-centric awards this evening: Best Screenplay, Best Picture - Drama, Best Actress - Drama (Frances McDormand), and Best Supporting Actor (Sam Rockwell). Even with its stripped-down filmmaking style, the film is anchored by fantastic performances and a perfectly-written story that allows these unique personalities to come to life. It's a relatable and human tale about regret, pain, anger, acceptance, and forgiveness, and it's the type of movie that will likely still resonate with audiences for years to come. That's perhaps the most important element of any big award winner, and Martin McDonagh's movie nails it.
It's a surprising turn for the Golden Globes because the last few years at the ceremony have arguably felt defined by films that have done things (whether they're structural or technical) that we haven't really seen before. Just look back at the last few years to see that phenomenon in action. Stories like Barry Jenkins' Moonlight (which told the story of a young, gay black man through three distinct eras of his life), Alejandro Iñárritu's The Revenant (a visceral, guerilla-style film that put its lead actor through hell), or Richard Linklater's Boyhood (a film shot over the course of 12 years) took home the award in no small part because they broke new ground in some form or another.
With a movie like Three Billboards Outside Ebbing, Missouri, it's kind of the opposite. From a pure filmmaking standpoint, the film is actually not all that complex of a production, and it adheres to a fairly conventional three-act structure -- very much playing into Martin McDonagh's wealth of theater experience. However, McDonagh's ability to craft a smart and witty story that hits every mark on the human emotional spectrum -- whether it's through laughter or tears -- and direct actors to convey those emotions is arguably unchallenged. In an era often defined by sweeping spectacle, that emphasis on humanity stands out. McDonagh has been on a filmmaking hot streak after In Bruges and Seven Psychopaths, and mainstream Hollywood institutions have finally started to take notice.
Does this mean that other nominated (and arguably more technically-intricate) films like The Post or The Shape of Water didn't deserve to walk away with the Best Motion Picture -- Drama Golden Globe this evening? Absolutely not. This was one of the most impressive Golden Globe years in recent memory, but Three Billboards Outside Ebbing, Missouri walked away wholly deserving of its big win.
Now that the Golden Globes have finally aired (you can check out our list of winners and losers, as well as our coverage of crazy moments), make sure to stay tuned for more up-to-date coverage on anything and everything related to your favorite movies from 2017 as awards season kicks into high gear. As for the films that are still to come over the course of the next year, you can take a look at our 2018 movie premiere guide.
Originally from Connecticut, Conner grew up in San Diego and graduated from Chapman University in 2014. He now lives in Los Angeles working in and around the entertainment industry and can mostly be found binging horror movies and chugging coffee.
Your Daily Blend of Entertainment News
Thank you for signing up to CinemaBlend. You will receive a verification email shortly.
There was a problem. Please refresh the page and try again.