More Evidence Avengers 4 Might Be Using Time Travel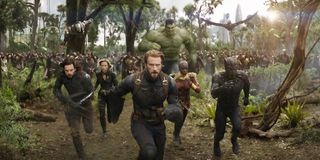 Avengers: Infinity War is only five months away, so it won't be much longer until we see how the conflict between Earth's Mightiest Heroes and Thanos unfolds. But even after that movie concludes, we still have another year to go until Avengers 4, which will be just as big an event as Infinity War, if not bigger. Understandably, Marvel is keeping quiet about what to expect from Avengers 4, but over the last couple weeks, set photos have been posted alluding that the movie is incorporating time travel into its story. Now there's stronger support for this theory, as new photos have popped up showing Chris Evans wearing the Captain America uniform from The Avengers, like in the image above.
You can head over to JustJared to see the new Avengers 4 set photos they've posted, but the basic gist is that they show Chris Evans donned in the same uniform Steve Rogers wore during The Avengers. Evans was shooting scenes with Paul Rudd, who was wearing an Ant-Man costume, and Robert Downey Jr, who was strangely rocking blonde-tinted hair and wearing a S.H.I.E.L.D. jumpsuit. Also nearby was Mark Ruffalo, who was wearing a motion-capture suit and carrying a giant bindle. Yes, you read that correctly, he had the same thing stereotypical hoboes carry around. So not only is Ruffalo portraying The Hulk in this scene, evidently the Green Goliath is also homeless. All these men were shooting on a debris-littered street that looks just like the areas where the Avengers were fighting when Loki and the Chitauri attacked New York City.
If all these photos only showed Chris Evans wearing one of the earlier Captain America uniforms, then there's an argument to be made that it's just a flashback. However, the presence of Ant-Man and a Tony Stark who doesn't look like he did in The Avengers strengthens the theory that select characters will be traveling back to the past for unclear reasons in Avengers 4. One of the photos showed Robert Downey Jr. gazing angrily at Chris Evans, suggesting that Tony Stark and Steve Rogers may get into an argument as Scott Lang watches. Given that The Avengers showed Tony and Steve meeting for the first time, it would be interesting to see the present day Tony getting frustrated with the younger Steve, which has happened quite a bit in the years since they and their teammates first saved the world together.
Our previous clues that Avengers 4 might use time travel came from photos showing a street filled with 1940s-era cars and a social media post showing Scarlett Johansson wearing the same clothing and having the same hairstyle as she did during the Captain America: Civil War opening. We still have no official confirmation yet that there will be temporal shenanigans in Avengers 4, though since there's an Infinity Stone out capable of rewinding, fast-forwarding and looping time, it's nowhere near outside the realm of possibility it can also transport its users to the past and future.
Avengers 4 will be released in theaters on May 3, 2019. Keep checking back with CinemaBlend for more news on the movie, and check our Marvel guide to see what other projects the MCU has coming up.
Your Daily Blend of Entertainment News
Connoisseur of Marvel, DC, Star Wars, John Wick, MonsterVerse and Doctor Who lore. He's aware he looks like Harry Potter and Clark Kent.
Your Daily Blend of Entertainment News
Thank you for signing up to CinemaBlend. You will receive a verification email shortly.
There was a problem. Please refresh the page and try again.