A DC Fan Made A Nightwing Trailer And It's Pretty Badass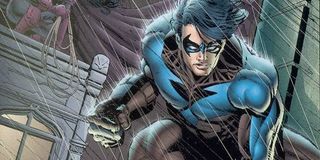 There already is a Nightwing movie currently in development over at Warner Bros., but for some fans, the wait for Chris McKay's DCEU solo movie may just be too long. In fact, one fan decided to cobble some footage together for a fan-made Nightwing movie trailer, and the resulting teaser is certainly a badass sight to behold. Take a look at the fan edit, below.
Taking place in the continuity of Christopher Nolan's Dark Knight trilogy (it even uses the trailer music that accompanied Nolan's work), this fan-made Nightwing trailer imagines an alternate reality in which Bane actually kills Batman during their encounter in the Gotham City sewer system in The Dark Knight Rises, thus completely eliminating the prison subplot from the latter portion of the movie. From there, the trailer imagines a version of events in which the Illuminati-esque Court of Owls hires Bane to go after Dick Grayson, who has taken up a new mantle as Nightwing to honor the legacy left by Batman. This leads him to a confrontation with Bane (who has been hired by The Court to go after him), and a showdown to get vengeance for the demise of Batman.
If nothing else, this fan trailer shows us just how much Nightwing and Batman-related content there is on the internet. Between movies, cartoons, fan films, and even video games like Batman: Arkham Knight, this preview pulls from all corners of pop culture to create its own version of Gotham City. The result? A Nightwing movie that's honestly pretty faithful to Dick Grayson's avenue of the DC mythos.
Also worth noting in this fan-made trailer is the presence of Jason Todd a.k.a Red Hood in its final moments. This fan edit goes far deeper into the Batman mythology than any of Christopher Nolan's actual Batman films, and this teaser arguably even goes far enough to tease a potential sequel to this hypothetical movie that could adapt elements of Under the Hood and Battle for the Cowl.
Of course, we will have to wait and see if this fan-made version of the Nightwing movie shares any parallels with the version of Dick Grayson's story that's already in development in the DCEU. The LEGO Batman Movie's Chris McKay is currently in the process of putting a Nightwing movie together, and he has specifically described it as an "action-packed character movie," which definitely lines up with the depiction seen in this fan trailer.
The wait for more information about the Nightwing solo movie has only gotten more difficult with the release of this trailer, but we will bring you more information related to the project as it becomes available to us. For now, take a look at CinemaBlend's movie premiere guide and start gearing up for the release of James Wan's Aquaman later this year on December 21.
Originally from Connecticut, Conner grew up in San Diego and graduated from Chapman University in 2014. He now lives in Los Angeles working in and around the entertainment industry and can mostly be found binging horror movies and chugging coffee.
Your Daily Blend of Entertainment News
Thank you for signing up to CinemaBlend. You will receive a verification email shortly.
There was a problem. Please refresh the page and try again.