This Rotten Week: Maze Runner: The Death Cure Reviews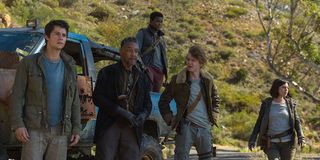 There's only one movie coming out in wide release this week, making it an underwhelming time to head to theaters looking for new and exciting cinema. Going to need to wait a couple of weeks on that, because all we've got is Maze Runner: The Death Cure.
Just remember, I'm not reviewing these movies, but rather predicting where they'll end up on the Tomatometer. Let's take a look at what This Rotten Week has to offer.
We are hitting something of the later-winter movie doldrums, meaning we only get one less-than-inspiring franchise tweener flick hitting the big screen. The Maze Runner series, based on the popular young adult series of the same name follows Thomas who wakes up in a maze and is tasked with running around a lot and fighting off some evil corporation that's doing evil things to the world.
The first film, Maze Runner (65%), started the franchise off fine enough from a critical perspective. But the sequel, Scorch Trials (46%) started what would be the slow and steady decline we sometimes see with these franchise flicks. Early reviews for The Death Cure are trending even lower with the movie sitting at 43% through about 30 reviews. That, almost assuredly, continues to dip over the course of the week. I wouldn't be surprised if it landed in the mid-thirties when things are all said and done.
Director Wes Ball helmed the first two movies in the franchise and is back again for the third. Again, it's trending in the wrong direction and the viewers left are likely just hardcore fans of the franchise. This happens with these young adult series (think Divergent). You either love the books and are headed to the theater or are out completely. Critics likely will trend with the latter group.
Recapping last week:
Overall, the Rotten Watch had another nice week with two of the three movies falling within 10% of their respective predictions. Den of Thieves (Predicted: 43% Actual: 40%) was a near direct hit, and falls firmly in that "destined for cool basic cable watch" not too far in our future. These kind of heist/action films have their place in the movie world in that they can be fun without the expectation level getting all that high.
12 Strong (Predicted: 71% Actual: 54%) finished on the right side of positive even though my prediction was just a little out of range. I probably boosted the score a little too much on the "emotional war movie" piece and ignored that there could just be a meh flick in there lurking. Critics who disliked it used words like "superficial" and "bland," two things you definitely don't want from a movie in this genre. It wasn't all bad of course, but it definitely had critics split down the middle.
And finally, no one was conflicted at all about _Forever My Girl _(Predicted: 21% Actual: 18%). It sucked. My prediction on this one was pretty easy. It didn't take much to tell from the trailer that this was a sappy mess, meant to cater to exactly one small subset of viewers. Hell, the trailer didn't even have any dialogue, just a country song playing. That could have been for effect, or it could have been because the movie had absolutely nothing to say.
Next time around, we've got Winchester: The House that Ghosts Built. It's gonna be a Rotten Week!
Doug began writing for CinemaBlend back when Terminator: The Sarah Connor Chronicles actually existed. Since then he's been writing This Rotten Week, predicting RottenTomatoes scores for movies you don't even remember for the better part of a decade. He can be found re-watching The Office for the infinity time.
Your Daily Blend of Entertainment News
Thank you for signing up to CinemaBlend. You will receive a verification email shortly.
There was a problem. Please refresh the page and try again.