The Flash Easter Egg That Was Slipped Into Justice League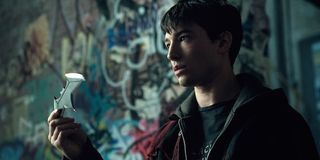 Warning: SPOILERS for Justice League are ahead!
Because Justice League was an ensemble piece revolving around its main heroes preventing Steppenwolf from conquering Earth, there was only so much time the movie could spend exploring the personal lives of its protagonists. For Barry Allen, a.k.a. Flash, we got a glimpse of him trying to prove his father's innocence, and fortunately for him, he scored a job at the Central City Police Department at the end of Justice League, taking him one step closer to getting Henry Allen out of prison. Now it turns out that the person who approved Barry being hired to work in the crime lab is a character from the comics, Gregory Wolfe.
Pausing the scene in Justice League where Barry Allen is showing his dad his CCPD acceptance letter, an eagle-eyed Redditor zoomed and saw that the letter is signed by Gregory Wolfe. However, rather than being identified as the warden of Iron Heights Penitentiary like his comic book counterpart is, Wolfe's current title in the DCEU seems to be "Police Department Recruiting Officer." However, since Ezra Miller's Barry is only just starting his career as a forensic investigator, one can also presume that Wolfe is also at a different point in his career, but as time passes, perhaps he will be put in charge of Iron Heights. Though if he's anything like the Gregory Wolfe from the comics, that won't be a good thing.
Created by Geoff Johns and Ethan van Sciver, Gregory Wolfe was introduced in 2001's The Flash: Iron Heights one-shot. Not believing in rehabilitation, Wolfe regularly treated the prisoners inhumanely, whether it was by having the guards beat them or by using his metahuman ability to inflect painful muscle spasms in a subject. Wolfe also forced Fallout, a Flash villain who emitted radiation, to power Iron Heights, which drained the life out of the metahuman. Wolfe was recently reintroduced in Joshua Williamson's Flash DC Rebirth-set comic book run, and while he hasn't displayed any superpowers yet, he's still "ruling" Iron Heights with an iron fist.
While it remains to be seen if Gregory Wolfe will be officially introduced in Flashpoint, the character is currently being played on The Flash TV series by Richard Brooks. As for the Scarlet Speedster's movie, it was reported last week that Spider-Man: Homecoming writers John Francis Daley and Jonathan Goldstein are in negotiations to direct the project. While Flashpoint so far sounds like it will be just as epic in scale as the original storyline, presumably it will spend a little time exploring Barry Allen's everyday life before the main story kicks off, meaning that there's a chance we could meet Wolfe while Barry's at work in the CCPD crime lab.
Justice League will be available to buy digitally on February 13, and the Blu-ray and DVD copies will hit shelves on March 13. Don't forget to also check out our DC movies guide to see what else this franchise has in development.
Connoisseur of Marvel, DC, Star Wars, John Wick, MonsterVerse and Doctor Who lore. He's aware he looks like Harry Potter and Clark Kent.
Your Daily Blend of Entertainment News
Thank you for signing up to CinemaBlend. You will receive a verification email shortly.
There was a problem. Please refresh the page and try again.