One Category Get Out Should Win At The 2018 Oscars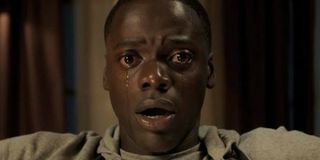 The Oscar nominations have finally come out, and we now know which 2017 films and filmmakers will duke it out on Awards Season's biggest night. One of the most hotly-contested categories of the bunch is the Best Director field, which has a delightful ensemble of newcomers and filmmaking icons in the mix. Anyone can win in a situation like this, but looking at all of the work produced by these filmmakers this year, it's reasonably clear that Jordan Peele has a genuine shot at walking away with Oscar gold for his spectacular work on Get Out.
The exact criteria for the Best Director category arguably feels a bit murky compared to other fields. Ultimately, the evaluation of the award boils down to how the director oversees the film, executes a tone and vision for the story in the script, and tells a coherent and cohesive story with a distinctive artistic touch. In that regard, Get Out is a film from 2017 with few equals. It features some understated-yet-beautiful camerawork (that opening one-take sequence is a particular standout), and its deeply-personal sense of racial satire is something that the horror genre has legitimately never seen before.
Of all the scenes in the movie, arguably the moment in which Chris (Daniel Kaluuya) encounters Georgina (Betty Gabriel) perfectly encapsulates several of the film's core ideas.
A lot of what works in that scene boils down to choices made by the actors and the editors, but it's also indicative of Jordan Peele's big-picture strengths as a filmmaker. In the hands of a less capable director, Get Out's story could've easily fumbled its tone. However, the resulting movie works, offering up biting satire on the state of racism and liberalism in American society with deftly-handled comedy and scares (many of which directly honor the horror genre) throughout an evenly-helmed story that actually evolves and improves on repeat viewings.
The results of this hard work clearly paid off when Get Out premiered last year. The film not only went on to achieve widespread critical acclaim upon its debut (we here at CinemaBlend even gave the film a 4.5 out of 5 review), but it also was a box office smash for Blumhouse with a worldwide gross of nearly $176 million. Critics and audiences seem to have come to a consensus on the strengths of Jordan Peele's work on this film; now it's time for The Academy of Motion Picture Arts and Sciences to do the same.
Of course, even in the face of Jordan Peele's qualifications for the Best Director Oscar, we do obviously need to note that he's going to have to beat many Hollywood heavy-hitters to make it happen. He's going up against industry icons like Dunkirk's Christopher Nolan and The Shape of Water's Guillermo del Toro, which represents a daunting task for anyone relatively early in his or her feature filmmaking career. That said, when a movie as enjoyable and well-realized as Get Out comes along, it's hard not to see how someone like Peele has a real fighting chance.
We will bring you more information related to all of the potential Best Director winners as the Oscars ceremony draws near. For now, you can hop over to our comprehensive 2018 movie premiere guide to get more details on all of the films set to debut this year!
This poll is no longer available.
Originally from Connecticut, Conner grew up in San Diego and graduated from Chapman University in 2014. He now lives in Los Angeles working in and around the entertainment industry and can mostly be found binging horror movies and chugging coffee.
Your Daily Blend of Entertainment News
Thank you for signing up to CinemaBlend. You will receive a verification email shortly.
There was a problem. Please refresh the page and try again.