Taika Waititi Admits He Used Torrented Clips For His Thor: Ragnarok Sizzle Reel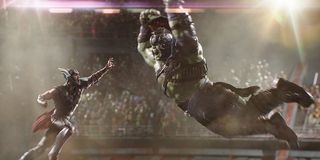 Taika Waititi is a man who is pretty open about the process of making his movies. Which is why it shouldn't be a huge surprise that the Thor: Ragnarok director admitted he may have torrented clips illegally when he was putting together the sizzle reel for the Marvel movie he helmed. In an interview with CBC Radio a few months ago, the Thor: Ragnarok director made the admission, noting at the time that he felt confident about saying it on the radio, mentioning.
Later in the CBC Radio interview, the director joked that maybe that part of the interview should be cut out, although since the material was just used for a pitch and not for the actual creation of the movie, it's unlikely to come to much. What's more amusing is the classic case of what goes around comes around that's gone on with the home entertainment release of Thor: Ragnarok. The Marvel movie was actually leaked early just a few days ago, thanks to Torrent sites. (The actual Digital release is out on February 20, with the DVD release to follow.) The snafu allegedly happened because the film was made available early thanks to a mix-up between Vudu and Apple, which owns iTunes.
Thor: Ragnarok is not the first release that has ever been torrented on the Internet. Movies and TV projects get torrented all the time, and TV especially has to deal with leaks happening before episodes air. In fact, at one point Game of Thrones stopped sending screeners out for exactly that reason. It's unclear how much leaks deter from overall home entertainment sales.
If Chris Hemsworth and Taika Waititi come together to create Thor 4, the pitch need not be so illegally download-oriented next time around. A few months ago, the director pitched us an opening for Thor 4 that involves the play within the movie format we saw in Thor 3, only this time the play would be about Asgard's destruction and not Loki and Thor's relationship. Marvel has waited to discuss a lot about Phase 4 and Chris Hemsworth's contract is ending after Avengers 4, but it's nice to know that Waititi is at least considering the possibility of helming another Thor-oriented flick.
As for the Thor: Ragnarok Blu-ray, if you wait for the actual release to come out on February 20, it's going to come with a bunch of extras, including a slew of deleted scenes. You can find out more about the Blu-ray, Digital and DVD release here. In addition, take a full look at February's home entertainment releases with our full guide.
Reality TV fan with a pinch of Disney fairy dust thrown in. Theme park junkie. If you've created a rom-com I've probably watched it.
Your Daily Blend of Entertainment News
Thank you for signing up to CinemaBlend. You will receive a verification email shortly.
There was a problem. Please refresh the page and try again.