Everything Wrong With IT Takes Aim At Pennywise's Powers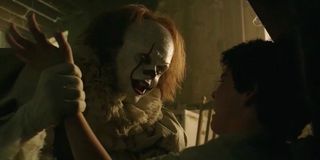 Andy Muschietti's IT became a bonafide sensation when it premiered in theaters last September. The horror romp made an insane, record-breaking amount of money at the box office, and it's turned into a horror fan-favorite. That said, this doesn't mean that the film doesn't have its share of issues, and a CinemaSins video has hit the web highlighting the problems with the abilities of Bill Skarsgard's Pennywise.
Attempting to find logic in a villain who defies anything traditionally logical is obviously going to be a difficult task, but this video does manage to aim at a few issues with Pennywise's tactics and abilities. For starters, it notes that his feeding habits don't entirely make sense. Beyond that, however, the video also points out that IT seems to show Pennywise's ability to manipulate space and matter (specifically the painting scene), which should technically make killing The Losers much easier than it looks in the film.
One other thing that this video notes about Pennywise in IT is the fact that the opening scene is one of the only sequences in the movie in which Bill Skarsgard's performance is allowed to shine through truly. In the later portions of the film, the video claims that IT relies far more on jump scares to pay off its tension. This topic is up for debate, and the merit of jump scares is something that horror fans continuously talk about, but this is a fascinating take on the film's construction of its scares.
Then, there's the fact that Pennywise the Clown arguably seems to be It's scariest form, and yet IT frequently makes the demonic entity change into other beings that don't have the same effect. The example provided here? The leper that attacks Eddie (Jack Dylan Grazer).
We will have to wait and see if any of the issues with Pennywise's powers addressed in this CinemaSins video get rectified or acknowledged in the franchise's next installment. As many fans of Stephen King adaptations already know, IT only represented one half of Pennywise's horrific rampage. A sequel is already in development for release next year, and the rumors associated with the project have suggested that it will spend far more time focusing on Pennywise and his origins. With that in mind, it would make quite a bit of sense for his supposedly inconsistent powers to become fleshed out and explained logically.
Andy Muschietti's IT is now available on Digital HD and Blu-ray. As for the future of The Losers Club and its battle against Pennywise the Dancing Clown, IT: Chapter 2 is currently lined up for release on September 6, 2019.
Originally from Connecticut, Conner grew up in San Diego and graduated from Chapman University in 2014. He now lives in Los Angeles working in and around the entertainment industry and can mostly be found binging horror movies and chugging coffee.
Your Daily Blend of Entertainment News
Thank you for signing up to CinemaBlend. You will receive a verification email shortly.
There was a problem. Please refresh the page and try again.