Why Danny McBride's Fake Dundee Movie Should Totally Become A Real Thing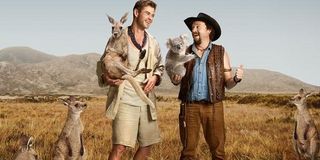 In the weeks leading up to this year's Super Bowl, a story started to break surrounding a Crocodile Dundee reboot starring Danny McBride as the long lost sun of Paul Hogan's 80s icon. As time went on, more and more cast members were added to the project, including Chris Hemsworth, Margot Robbie, Hugh Jackman, and even Russell Crowe . However, the project, called Dundee: The Son of a Legend Returns Home, was soon debunked and revealed to actually be an ad for Australia Tourism. Yet, even after that revelation was made, some folks were still hoping that Dundee would turn out to be an honest-to-goodness action comedy, and there are several good reasons for why a reboot is a good idea.
Dundee: The Son of a Legend Returns Home should totally become a real movie, if only because it's an idea that went from sounding patently ridiculous to one that was so absurd it could have worked. To the point, there's even a petition up to turn the Danny McBride vehicle into an actual motion picture. Now a big reason why Dundee looks like it could be a lot of fun to turn into a feature film is because despite the fact that it's a tourism ad, it genuinely looks like a fun parody of "lost kid of..." sequels. It also mocks the concept of big ticket tourism ads, which sometimes become product placement in big budget films themselves. Put both of those concepts together, and we could have a perfect fish-out-of-water buddy comedy starring Chris Hemsworth and Danny McBride.
Secondly, as we've also seen in the previous "trailer" for Dundee, the non-film has an all-star cast. The notable Australian talent also includes the aforementioned names plus Liam Hemsworth, Luke Bracey, Isla Fisher, and countless others, and they all look as if they're having fun contributing to the legacy of Crocodile Dundee, which last saw itself in theaters back in 2001 with Crocodile Dundee in Los Angeles. Again, despite the fact that the face value concept sounds absolutely silly, everyone approaches it with such conviction that a full, fleshed-out story could turn absurdity into an ingenious comedy hit. Take a look at the fake trailer that ran before the Super Bowl, below, and try to argue otherwise:
Now as to the actual story of Dundee, I understand that would definitely take some effort putting together. There are a lot of characters introduced with the trailer, but no specific narrative involved past the fact that Brian Dundee is returning home, and Wally Jr. is helping him find his way. Still, with those two teamed together, an adventure involving helping Brian not die in the vicious Australian outback is enough of a foundation for a rip-roaring adventure comedy. With Russell Crowe playing J.P. Steele, a sort of Rupert Murdoch wannabe and Hugh Jackman portraying the standard stern Prime Minister, one could assume that Brian and Wally's adventures run afoul of the natural order. Which leaves the rest of the colorful cast to team up with our two leads to protect the Outback, and the legacy of Mick Dundee. Of course, this wouldn't be anything without the participation of the original Crocodile Dundee himself, Paul Hogan. Since he participated in the ad, it's to be assumed that it wouldn't be too hard to get Mick to come out of retirement for a little fun and games.
It's not likely that Dundee will become a real movie, at least not from where things stand right now. (Although Chris Hemsworth has mentioned he wouldn't be opposed if there was a good script.) Plus, some fans are probably happy the fun Super Bowl moment ended up being an ad. However, if Paramount still retains the rights to the film, the studio could do worse than this type of remake, considering how light the company's stable of properties is at the moment. It's just too fun of an opportunity to pass up. Not to mention, the tourism boom that followed Crocodile Dundee in the 80s could repeat itself, thus vindicating Tourism Australia for the decision to even create Dundee: The Son of a Legend Returns Home in the first place. In short, there are lots of reasons to say yes and fewer reasons to say no.
For now, Dundee: The Son of a Legend Returns Home resides in our dreams, and in a Super Bowl ad campaign. But if the swell of support on the internet continues, and if stars like Chris Hemsworth start getting excited in the right manner about the project, there could still be some reality in this fake project.
CinemaBlend's James Bond (expert). Also versed in Large Scale Aggressors, time travel, and Guillermo del Toro. He fights for The User.
Your Daily Blend of Entertainment News
Thank you for signing up to CinemaBlend. You will receive a verification email shortly.
There was a problem. Please refresh the page and try again.