How Many Sex Scenes Are In Fifty Shades Freed?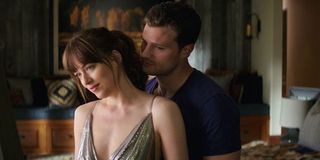 There are lots and lots of spoilers regarding Fifty Shades Freed. If you haven't seen the franchise's climax yet, we highly suggest you check it out before spoiling yourself on its naughty bits.
There have always been differences between the books and the movies in the Fifty Shades franchise. Sadly, this means the movie has sometimes cut out some of the most memorable scenes. Which, in this case, means there is a little less nookie in the movie than in the books. Although, fans might really enjoy one sticky scene involving a little ice cream. So, how much sex actually ended up happening in the third and final movie in the trilogy? By our count, there were five full-on sex scenes in Fifty Shades Freed, and a few more erotic scenes that were something a little trickier.
It doesn't take long for the sex to start, either. The first scene happens just a few short minutes after Christian Grey and Anastasia Steele say their "I do's," as there is some sex during the opening credits. This is not full-on Fifty Shades bondage sex, though. It's pretty vanilla.
Next, the couple has sex on a boat. This is a very memorable scene from the books. In E.L. James' work, Christian cuffs Ana roughly, and she later has marks on her wrists that she has to cover up. The movie downplays how rough the sex is, but the handcuffs are still a big part of the scene.
The next sex scene might really rev your engine up. Christian takes his Audi out and brings Ana with him so they can go over the plans for the house he just bought. Then, she asks to drive his car and he surprisingly says yes! Next, there's a crazy car chase scene in which Christian barks orders at Ana and she makes some sweet moves, eventually pulling into a parking lot where -- finally! -- the couple has sex. In public.
In Colorado, the couple takes a bath together, but we don't get a really intense sex scene until Ana gets up in the middle of the night to eat some ice cream. Christian follows her and she takes the initiative into foreplay, placing ice cream strategically on his body and licking it. Oral sex and then sex atop the kitchen table quickly follow.
Thanks to honeymoon and vacation shenanigans, it takes a while to get to the Red Room. Things are going well in her relationship with Christian, and Ana is starting to explore her kinky side. The couple heads into the red room, where Ana is tasked with opening a drawer and pulling out a butt plug. This scene is intermixed with shots of Ana thinking about the sex at work the next day.
Unfortunately, following these five scenes, Ana and Christian's relationship starts to go a little south. First, she disobeys Christian and gets drunk with Kate despite his wish that she head home and not go out that evening. He is not pleased and they do go to the Red Room, but they don't really have mutual sex. Instead, he punishes her with a vibrator until she uses their safe word, "Red."
Following a whole bunch of other thriller shenanigans featuring Ana and Jack Hyde, who is prominent in the early trailers for Fifty Shades Freed, we get one more scene in the Red Room. We don't actually get to see Ana and Christian do the deed, but she's dressed to kill and it's totally implied.
As fans who have read the books will know, there are more sex scenes in the book than in the movie, but Fifty Shades Freed has a reasonable runtime. What did you think? Did the amount of sex in the movie work for you? If you haven't caught the flick yet, Fifty Shades Freed is currently in theaters (opens in new tab).
This poll is no longer available.
Reality TV fan with a pinch of Disney fairy dust thrown in. Theme park junkie. If you've created a rom-com I've probably watched it.
Your Daily Blend of Entertainment News
Thank you for signing up to CinemaBlend. You will receive a verification email shortly.
There was a problem. Please refresh the page and try again.