In Honor Of Mute, Paul Rudd's 10 Best Roles, Ranked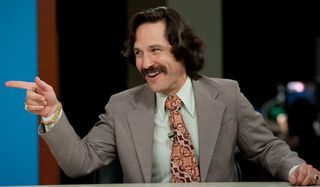 Ironically, Paul Rudd's "biggest" role might be for his smallest character. The world currently knows Rudd as Scott Lang, the insect-sized hero Ant-Man in the ongoing Marvel Cinematic Universe. But to only associate Rudd with this comic-book role is to overlook -- and under-value -- the versatile work this performer has been doing in assorted projects for decades.
Movie fans are going to see a completely unexpected and unpredictable side of Paul Rudd when Duncan Jones' sci-fi thriller Mute opens on Netflix on February 23. Yes, the early buzz swirled around Rudd's magnificent mustache, a bold swath of facial hair that takes up a lot of real estate on the actor's handsome face. But once they settle into Jones' gritty parable, they'll realize that Rudd's character, Cactus Bill, actually marks a stark departure from the performer's everyman shtick, instantly becoming one of his most memorable roles.
In the film, Cactus Bill and his partner, Duck (Justin Theroux), work as surgeons for a team of gangsters who have a vice grip on Germany's seedy criminal underbelly. Bill and Duck each have personal and professional goals -- which I can't get into here, because it would ruin some of Mute's best surprises -- but their interactions with a silent bartender (Alexander Skarsgard) threaten the duo's way of life... and possibly their futures. Where does Cactus Bill from Mute land on the list of incredible Rudd roles? Read on to find out.
10. Bobby Newport, Parks and Recreation
Some actors get pigeonholed as either "TV personalities" or "big screen movie stars," but precious few transition back and forth with the ease that Paul Rudd has managed. Maybe it's because, instead of trying to carry his own sitcom, Rudd has chosen his moments to shine on previously established shows like Friends (as you will see later on this list) and Parks and Recreation. Bobby Newport is the dopey son of a rich, entitled family who makes life extremely difficult for Leslie Knope (Amy Poehler). The fact that he's too dumb to realize how annoying he is turns out to be the comedic icing on the cake.
9. Chuck, Forgetting Sarah Marshall
Paul Rudd's a brilliant comedian who always understands what's hilarious about the situation that he's in. That being said, some of his most memorable comedic turns have been playing dumb dudes, and few are more vacant and empty-headed than his scene-stealing surf instructor, Chuck, from Forgetting Sarah Marshall. And in one of his funniest lines, the motivational idiot explains to Jason Segel, "The less you do, the more you do." It sums up Rudd's approach to comedy in a nutshell.
8. Ben Benjamin, The Fundamentals of Caring
Paul Rudd's a likable guy who frequently plays clueless idiots. But every once in a while, a filmmaker will see in Rudd his ability to be earnest and humble while also maintaining the sarcastic edge that comes to him so easily. Netflix's original film The Fundamentals of Caring expertly shows that side of Rudd, as his character Ben agrees to be a caregiver for a handicapped young man, only to find these opposing personalities at odds with each other as they embark on an important road trip. Caring shows all of what Rudd has to offer as an actor, and a comedian.
7. Mike Hannigan, Friends
Paul Rudd knew that he could succeed as a small part of a popular sitcom because he'd tried it once before, on Friends, with spectacular results. The NBC sitcom stunt-casted so many love interests for the various Friends core cast, from Tom Selleck to Brad Pitt. But Rudd's quirky Mike was the ideal match for Lisa Kudrow's Phoebe, to the point where some fans of the TV series thought of him as the seventh Friend.
6. Pete, Knocked Up and This is 40
Paul Rudd isn't opposed to sequels (he's in the MCU, after all), but his return as Pete was unexpected -- primarily because he and Leslie Mann were side characters in Judd Apatow's Knocked Up. But audiences responded to their chemistry as a married couple, so Apatow was inspired to follow their journey when he brought them back for This is 40. We still love Pete and Debbie, and could easily see Apatow doing one or two more of these as his cast ages.
5. Andy, Wet Hot American Summer
Paul Rudd brings a certain amount of childishness to most of his roles, but that's particularly true of teenage heartthrob Andy in David Wain's Wet Hot American Summer (despite the fact that Rudd was 32 when the film debuted.) Channeling his inner douchebag, Rudd delivers a perfect encapsulation of the 1980s jock cliché while also embracing the absurd. Andy's the epitome of a negligent camp counselor; he'll let a kid drown while he makes out with a girl at the lifeguard tower, and then dispose of any witnesses who call him on it. That being said, Rudd still manages to make him lovable every step of the way.
4. Cactus Bill, Mute
Without exaggeration, Cactus Bill is unlike any other character Paul Rudd has played before. As you can see, if you made it this far down the list, Rudd excels at comedy. But when he allows his charismatic personality to go dark, we find Cactus Bill -- a homicidal surgeon who is protecting himself and those close to him, even though his loyalties pivot like a weathervane in a tornado. But we buy into Bill's menace because Paul Rudd's such a convincing actor, and his turn is just one of the reasons why you'll still be thinking about Mute long after you've reached the end credits.
3. Scott Lang, Ant-Man
Most people play "superhero" as kids, but precious few grow up to see that dream realized. The actors in the Marvel Cinematic Universe are holding down the fort on a supremely impressive accomplishment -- the creation of a multi-phase movie world that's bigger and more diverse than anything we've seen before. And Paul Rudd has a part to play, which is "small" (the size of an ant) but also very large! Rudd stole the show in Captain America: Civil War when he grew to skyscraper size, and should continue to bring his relatable humanity when Thanos (Josh Brolin) attacks our planet in Avengers: Infinity War.
2. Josh, Clueless
People probably forget that Clueless is the movie that put Paul Rudd on the map. But even if he never appeared in another film, Rudd could have hung his hat on Clueless and called it a career. Yes, Alicia Silverstone was the center of that universe. But Rudd's take on Josh, the love interest who was too busy with life to notice the airheaded-ness of Cher (Silverstone), gave Clueless the heart that it needed to cement itself as a generational classic. The movie showed how charming and funny Rudd could be on screen, and it ensured that he'd be a leading man for years to come.
1. Brian Fantana, Anchorman
Could it be anyone else besides Brian Fantana? The one-time newsman turned professional cat photographer stands out as one of the most memorable role players in a brilliant comedic ensemble in the movie Anchorman. Whether he's dousing himself in Sex Panther or helping Ron avoid bears, Paul Rudd dials into his dumb-guy routine with lethal precision, bouncing along with amazing improvisational speeds and somehow managing not to crack a smile at his equally hilarious co-stars. Sixty percent of the time, Brian Fantana works every time, and that's why he is No. 1 on this list.
The above article was sponsored by Netflix's Mute. You can check out the film exclusively on the streaming service.
This poll is no longer available.
Managing Director at CinemaBlend. ReelBlend cohost. A movie junkie who's Infatuated with comic-book films. Helped get the Snyder Cut released, then wrote a book about it.
Your Daily Blend of Entertainment News
Thank you for signing up to CinemaBlend. You will receive a verification email shortly.
There was a problem. Please refresh the page and try again.