How Finn And Captain Phasma's Star Wars: The Last Jedi Fight Originally Ended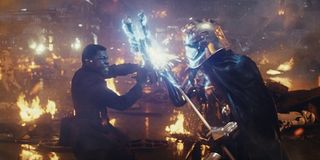 Warning: SPOILERS for Star Wars: The Last Jedi are ahead!
From the beginning of Star Wars: The Force Awakens, Finn and Captain Phasma have been on a collision course towards a major confrontation. That confrontation finally took place in Star Wars: The Last Jedi. After being betrayed by DJ and captured by the First Order, hope is seemingly lost for Rose and Finn, who are about to be killed. But thanks to Admiral Holdo's heroics and BB-8 continuing the proud tradition of droids saving the day, the Resistance heroes are given a stay of execution, which leads to Finn and Phasma comin to blows as Snoke's ship comes apart around them. Finn eventually gained the upper hand on Phasma, and after part of her helmet was destroyed, she fell into a fiery chasm. But the way this battle played out is actually the product of reshoots, as the original version of this scene was actually quite different.
Originally, Captain Phasma had Finn soundly beaten and surrounded by stormtroopers. There in a desperate moment, the two foes began talking, and Finn insultsed Phasma for her cowardice, bringing up how she helped lower the shields on Starkiller Base in The Force Awakens in order to save her own life. Phasma looked out through her damaged helmet as her subordinates are forced to endure the awkwardness of this moment. Then, before anyone can question her, Phasma blasts all of the stormtroopers. This allows for Finn to begin Round 2, which ultimately ended in Captain Phasma being hit by a blast that sends her into the chasm of the breaking ship. While this original version allowed for a bit more of a mental game between the characters, it ultimately didn't work in the film because of the pacing, as director Rian Johnson explained.
It would have been cool to see this interaction to build the emotion between the Captain and her former pupil but I can see what Rian Johnson means. As he told Entertainment Weekly, the pacing wouldn't have worked. With a ship exploding and rebels on the run, grinding the story to a halt in this moment to let two characters have a little chat would have messed with the flow of the movie. We never saw the coercion that took place in The Force Awakens before Captain Phasma lowered the shields and was promptly and unceremoniously disposed of. Nevertheless, seeing a little more insight into Phasma's psyche to see how she reacts to having that shameful moment revealed would have been interesting. It also would have done a bit to humanize the character, who never got as much screen time as we hoped, before she reverted back to a cold, calculating killer, murdering her own men to save face.
Ultimately Phasma is still defeated, but her fate is actually a bit less certain in the theatrical version of the scene. In the original version, her death was more definitive, whereas now, along with Gwendoline Christie herself, we are still wondering what the character's future holds, if anything. Such decisions are probably up to J.J. Abrams now, but if she is to be brought back, it has to be for a good reason, and there needs to be a story to tell. With Episode IX coming next year, maybe Finn and Captain Phasma will clash again, and Finn will get another chance to reveal her true nature.
You can watch Finn versus Phasma all over again when Star Wars: The Last Jedi arrives on home video on March 27. For all the latest on why you should never waste time talking to a fallen enemy, stay tuned to CinemaBlend.
Your Daily Blend of Entertainment News
Nick grew up in Maryland has degrees in Film Studies and Communications. His life goal is to walk the earth, meet people and get into adventures. He's also still looking for The Adventures of Pete and Pete season 3 on DVD if anyone has a lead.