What Is Star Wars Trying To Do With Captain Phasma?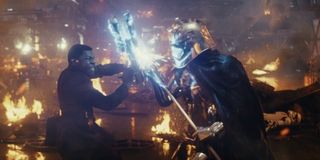 Warning: major spoilers ahead for Star Wars: The Last Jedi! Don't read any further if you have not seen Rian Johnson's foray into the world of Star Wars yet!
Now that Star Wars: The Last Jedi has debuted in theaters, one of the most talked-about elements of the film is the series of great character moments. That said, there's one character who tragically gets short-changed by the narrative: Gwendoline Christie's Phasma. The First Order Captain once again underwhelms audiences after the promise of a truly badass turn, and it's hard to shake the feeling that something is not quite right. With two lackluster appearances under her belt, it raises one earnest question: what the hell does Star Wars even want to do with Captain Phasma?
The reveal of Gwendoline Christie's shock trooper comes reasonably late in Star Wars: The Last Jedi's story -- a stark contrast to her early appearance in The Force Awakens. Showing up when DJ (Benicio del Toro) betrays Finn (John Boyega), Rose (Kelly Marie Tran), and BB-8, her pivotal moment to shine occurs when Amilyn Holdo (Laura Dern) flies a Resistance ship through the First Order cruiser. Engaging in a last-ditch melee against Finn, the film cuts the battle surprisingly short when the new Star Wars hero quickly gets the upper hand and sends Phasma tumbling into a potentially firey grave on a lower deck of the ship.
There's no denying that it's a cool scene, but it also leaves many people scratching their heads. Captain Phasma has been held up as a main character in the franchise since the earliest moments of The Last Jedi, and the films have not done a great job of explaining why audiences should get excited to see her on-screen -- aside from the fact that her armor looks cool and she's played by Game of Thrones' Brienne of Tarth. After two movies, we still don't care about her, and that's not a good thing. After all, we don't want another underwhelming Boba Fett situation on our hands, do we?
Here's the thing: this is important because Star Wars needs a character like Captain Phasma. For starters, she's a female villain in a franchise whose antagonist roles are almost exclusively male. Beyond that, she's one of the few members of the First Order ranks who looks like she can put up a fight without using The Force, as Hux (Domhnall Gleeson) clearly isn't going to get his hands dirty anytime soon. Rey (Daisy Risley) has Kylo Ren (Adam Driver) as an arch nemesis, but the more secular members of the Resistance like Finn and Poe Dameron (Oscar Isaac) need a proper bad guy to face off against. Alas, as of right now, the Star Wars franchise is failing Captain Phasma as the best possible candidate for that role.
With all of that said, it does need to be mentioned that we have only seen two-thirds of Phasma's story play out on the big screen so far. Although the character falls hundreds of feet into a pit of fire after her fight with Finn in Star Wars: The Last Jedi, it very much feels like Finn doesn't quite finish her off. There's still a genuine possibility that she could show up in Star Wars: Episode IX to cap off her arc, but it doesn't change the fact that her first two appearances have arguably failed to create a mystique that lives up to her badass armor design.
Star Wars: The Last Jedi is currently in theaters, so if you're looking to go on an adventure in a galaxy far, far away, make sure to check out our in-depth review of the film, as well as our helpful To 3D guide, and order your tickets now!
This poll is no longer available.
Your Daily Blend of Entertainment News
Originally from Connecticut, Conner grew up in San Diego and graduated from Chapman University in 2014. He now lives in Los Angeles working in and around the entertainment industry and can mostly be found binging horror movies and chugging coffee.