Thor: Ragnarok's Honest Trailer Pokes Fun At The Marvel Movie's Colorful Weirdness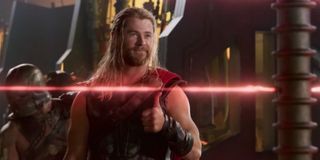 As far as individual franchises are concerned, the Thor films have stood out as an arguably weaker element of the Marvel Cinematic Universe. Then Taika Waititi got his hands on Thor: Ragnarok and catapulted Thor Odinson to the status of an upper echelon Avenger. Now, with the film's home release finally upon us, a hilarious Honest Trailer has debuted online to poke fun at the film's delightful weirdness. Check out the video, below.
Right off the bat, one major thing worth noting about this video is the way it focuses on how much Thor: Ragnarok omits from its story. Between Jane Foster, Lady Sif, the dead Warriors Three and many fan-favorite Asgardians, Ragnarok ultimately distills its story down to the basics of the Thor mythos and only keeps anything that's necessary to tell this specific story. It's about stripping things away from Thor (even Mjolnir and his long hair) and creating something entirely new that feels like it's been made in the spirit of classic Jack Kirby comics. Instead of the same old Thor story, we saw Hulk fighting a giant zombie wolf on a rainbow bridge, and it was so worth it.
Even with that poignant assessment, the above video also manages to make some other funny observations about Thor: Ragnarok as well. Chief among these is the sheer number of jokes peppered throughout the film, as well as the fact that Doctor Strange star Benedict Cumberbatch arguably seemed obligated to be in the movie to pave the way for Avengers: Infinity War. Then there's Jeff Goldblum, who is basically just playing the eccentric Jeff Goldblum that we all know and love.
Of course, this video isn't just limited to critiques of Marvel films. It even manages to poke some fun at the competition over at the DCEU by likening the post-Justice League landscape to that of Sakaar's trash-ridden surface.
Finally, and perhaps most importantly, one of the final points made by this Honest Trailer is the fact that Marvel succeeded by trusting an eccentric director with a clear sense of authorship over his work. Taika Waititi was known for his work on smaller indie films like What We Do in the Shadows and Hunt for the Wilderpeople before being hired to work on Thor: Ragnarok, and he managed to transfer much of his weirdness over to the film in a remarkable way. Now that he has proven a "weirdo" can make a great Marvel movie, maybe we'll eventually come to a point where someone over at Marvel Studios goes back to Baby Driver's Edgar Wright and tries to get him back onboard following his departure from the original Ant-Man.
Thor: Ragnarok is now available on Digital HD, DVD, and Blu-ray. As for the God of Thunder's next adventure on the big screen, keep an eye out for the Asgardian hero when Avengers: Infinity War hits its new premiere date on April 27.
Originally from Connecticut, Conner grew up in San Diego and graduated from Chapman University in 2014. He now lives in Los Angeles working in and around the entertainment industry and can mostly be found binging horror movies and chugging coffee.
Your Daily Blend of Entertainment News
Thank you for signing up to CinemaBlend. You will receive a verification email shortly.
There was a problem. Please refresh the page and try again.