Why Don Cheadle Is Fine Not Knowing What Happens In Infinity War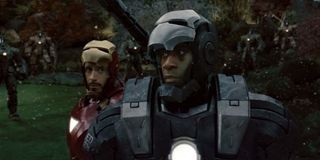 A lot of precautions are taken on the set of big movies to make sure things don't leak too early. However, frequently this means the actors aren't even given the whole story of the movie they're in to be sure they don't accidentally talk. While this certainly has the potential to make things difficult for an actor trying to give a performance with only partial information, Don Cheadle told our own Sean O'Connell on the set of Avengers: Infinity War that he doesn't mind it so much. While it can make things interesting on the set, it has the added benefit of making the movie watching experience just as exciting for him as it is for the rest of us. According to Cheadle...
Script pages are often guarded very closely on movie sets like Avengers: Infinity War. Actors are often only given the pages they absolutely need, meaning they have no idea what's happening in parts of the movie they're not in. In addition, with the growing use of CGI, actors are often performing against nothing, and they won't get a chance to see the thing they were in a life and death struggle with until the premiere after all the effects are done.
There's nothing quite like watching a movie for the first time when you have no idea what is going to happen. It's why so many people work so hard to avoid spoilers of a movie or TV show they really want to see. Being an actor can be the ultimate spoiler because you know all the answers but you never actually had the pleasure of sitting down and watching the final product.
The other reason that Don Cheadle likely doesn't know all the answers regarding Avengers: Infinity War is that the movie is just so big. Based on what we've seen in the trailers, a lot of the action is broken up into three different places, New York, Wakanda, and outer space. We only ever see War Machine in Wakanda, so it's not clear if the character will even appear anyplace else. Cheadle probably doesn't know what happens in those other parts of the movie, and even if he does, since he wasn't there, his first chance to actually see any of it will still be when the movie premieres next month.
Don Cheadle will be among the excited fans looking forward to seeing Avengers: Infinity War when it arrives April 27.
Your Daily Blend of Entertainment News
Content Producer/Theme Park Beat
CinemaBlend's resident theme park junkie and amateur Disney historian. Armchair Imagineer. Epcot Stan. Future Club 33 Member.