What's Going On With Hawkeye In Avengers: Infinity War?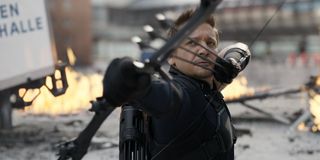 The Russo Brothers' Avengers: Infinity War is coming, and it's going to shuffle the deck after the events of Captain America: Civil War split up Earth's mightiest heroes. With the film's marketing campaign now in full swing, the pieces are now being put in place to show where each character will go in the next Avengers movie. That said, Marvel Studios recently released an entire graphic to celebrate all of these characters coming together, and Jeremy Renner's Hawkeye is nowhere in sight. Take a look at the GIF to see for yourself.
Notice anyone missing? That's right, Hawkeye is completely absent from that roster. Although that's a small thing, Hawkeye has not made a single appearance in any of the footage released for Avengers: Infinity War, which seems somewhat odd when we consider his status as a founding member of The Avengers roster, as well as the fact that almost every other character has had a moment to shine in the film's marketing campaign. The last we saw of Hawkeye was when Cap (Chris Evans) came to his rescue on The Raft prison at the end of Captain America: Civil War, but we know absolutely nothing about what happened after that.
It's also worth noting that Scott Lang (Paul Rudd) has yet to receive any love from these Twitter posts or any of the trailers for Avengers: Infinity War. However, that arguably feels like a somewhat different case because we already know that Scott will for sure appear alongside Hope van Dyne (Evangeline Lily) when Ant-Man and The Wasp hits theaters later this year on July 6.
So what's the deal? Why have we seen nothing from Hawkeye? He's definitely in the movie, because Jeremy Renner has talked explicitly about Clint Barton's role in Avengers: Infinity War and highlighted his excitement about the direction that the Russos are taking the character. Beyond that, he also recently posted a video from the set of Avengers 4 to celebrate wrapping production, which seems to suggest that Clint will make it through the events of the third Avengers movie -- unless something like time travel does something wild to the timeline.
With that in mind, one explanation for his absence from this post and the trailers is that Hawkeye receives visual and personality overhaul in Avengers: Infinity War. If that's true, then the folks behind the movie want to keep it a secret for now. We have already seen plenty of other aesthetic changes, such as the shift that Steve Rogers has made to a Nomad-esque character. If Hawkeye is due for a new costume, and possibly a new role as Ronin (something that many fans have theorized in recent months), then it could just mean that Clint is one of the movie's critical secrets that need to remain intact for the foreseeable future.
Whatever is happening with Hawkeye in Avengers: Infinity War, we will know for sure when the film's May 4 release date rolls around. Until then, make sure to watch out for Black Panther when Ryan Coogler's T'Challa solo movie premieres in theaters on February 16.
Your Daily Blend of Entertainment News
Originally from Connecticut, Conner grew up in San Diego and graduated from Chapman University in 2014. He now lives in Los Angeles working in and around the entertainment industry and can mostly be found binging horror movies and chugging coffee.